BEST FENNEL TEA RECIPE – THE AYURVEDIC WAY
Fennel tea is a perfect autumn tea. It is warming, soothing and one of the best remedies to cure stomach bloating. Here is my Ayurvedic Fennel Tea, the best fennel tea recipe for autumn season:
INGREDIENTS
1 tsp fennel seeds
2 cups water
Honey as per your taste
DIRECTIONS:
In a pot, add the water and bring it to a boil.
Add the fennel seeds and let it simmer for 10 minutes.
Strain and serve hot. Add honey if you like the sweetness of honey.
IF YOU PREFER TO USE A TEAPOT, DO THIS:
Place the seeds into a teapot or infuser. Pour hot water and let sit for 5 minutes. Enjoy.
SNACKS THAT GO WELL WITH FENNEL TEA:
NEED A BIT OF COMFORT.  WHY NOT ENJOY MY SALLY'S SIX CAKE SPECIALS? 
HEALHTY AND SIMPLE RECIPES  – Ebook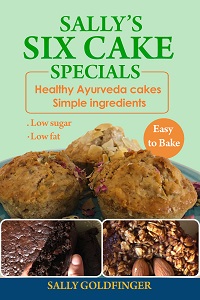 '
Download Ebook Today  and ENJOY SELF CARE AND HEALTHY CAKE RECIPES
All of my Six Cake Specials are made of simple and inexpensive ingredients, which you can get from any supermarket in any part of the world. The recipes are low fat, healthy and nutritious.