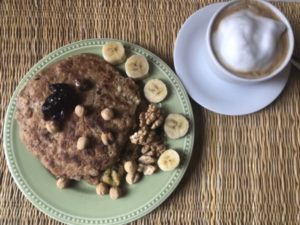 These healthy oat pancakes are easy to make. They are nutritious, delicious and immune healthy.  A perfect breakfast.
I make my healthy oat pancakes vegan. You can, however, add 1 egg instead to give the oat pancakes a softer texture.
Remember: You can adapt and adjust the recipe according to your taste.
Below you have my ingredient list:
INGREDIENTS
1 cup flour = 100 gram ( I use whole-wheat flour). If you want a lighter texture, use white flour.
1 1/2  cup old-fashioned oats
1/4 teaspoon cinnamon (use less if you aren't a cinnamon lover)
1/2 – 1 tbsp brown sugar
1 tsp baking powder
1 cup plant based milk or any milk o your choice
3 tablespoon oil (I use olive oil or avocado oil)
1 handful sunflower seeds (optional)
1 egg (optional)
INSTRUCTIONS
In a bowl combine flour, oats, brown sugar, baking powder, cinnamon. Mix well. You can add a pinch of salt, should you like.
Add in milk and oil. If you use 1 egg, mix in the egg. If you don't use egg, like me, then add a bit more milk (I add in 4 tbsp)
Mix well with a wooden spoon. Additional, you can add 1 handful of sunflower seeds. Don't over-mix the batter, a few seconds is enough. The texture is thicker than a normal pancake batter.
Heat a greased pan over medium-high heat. Make sure you don't overheat your pan, as this will burn your pancakes.
For each pancake, scoop up batter with an ice cream spoon. If you want bigger pancakes use 2 of scoops batter. For smaller pancakes use 1 scoop of batter.  Turn the pancakes when the tops are covered with bubbles and edges look cooked.
For a bit of fun, you could try and top one or two pancakes with four banana slices (see my picture below). Make sure your pan is well oiled, otherwise the banana slices will stick to the pan and burn.
Serve the finished pancakes with jam, fruits or honey. If desired, additional banana slices and nuts.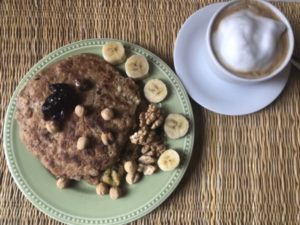 ENJOY! And feel free to adjust the pancakes to however you want. This is my own recipe, and I love it. However, we all have different tastebuds. And we all like different textures and tastes. But I hope you'll like it!
WANT TO ENJOY MY LOW FAT HEALTHY CAKES?
GET MY RECIPES  HERE
With love,
Sally