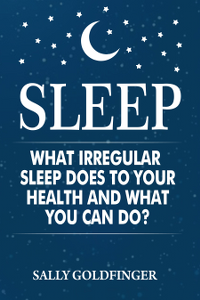 The Mini E-book provides simple, clear and practical guidance for dealing with sleep issues. If you are concerned about the impact of irregular sleep patterns on your life, this E-book will provide you with useful and practical information:
How to tackle sleep problems, holistically
How your body type reacts when you experience sleep deprivation, and what you can do
What are common signs of sleep problems for Vata, Pitta, Kapha body types and why?
What specific foods enhance sleep and how digestion and sleep is linked
What illnesses you are prone to if you don't learn to tackle irregular sleep
Included is a 7 day chart to spot your sleep triggers.
---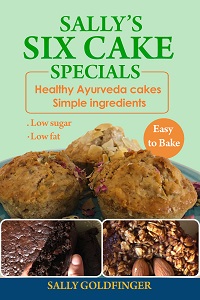 All of my Six Cake Specials are made of simple and inexpensive ingredients, which you can get from any supermarket in any part of the world. The recipes are low fat, healthy and nutritious.
You don't have to spend hours in the kitchen to bake delicious and healthy cakes. You also don't need expensive or complicated ingredients, and fancy or high-tech baking machines for it. My Sally's Six Cake Specials are easy to make, with very little preparation time.
BONUS Get my Sally's Six Cake Specials PLUS get my Immune Boosting Ayurveda Smoothie E-Book for ONLY 11€ –
My Ayurveda smoothie/juice E-Book Contains 15 recipes. Each recipe has a vitamin & mineral nutrition chart.
2 E-books Special Price: € 39.00
---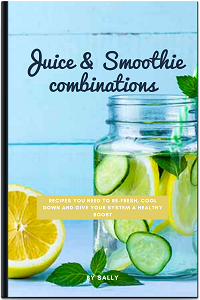 In this E-Book you find 15 of my healthy immune boosting Ayurveda smoothies & juices. All the smoothies and juices are cooling, refreshing and cleansing, and are excellent for spring and summer season.
The different juices and smoothies are non-acidic and recommended for all 3 doshas (body types).
---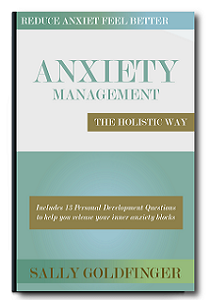 Anxiety is one of the biggest problems in today's world. Millions of people suffer from it and research shows that rates of anxiety has skyrocket in the past decades.
Anxiety is related to a Vata imbalance. In this Mini E-Book I will inform you about Vata energy, anxiety attacks, and give you information about anxiety and what anxiety is, and how you can reduce it.
Includes 13 Personal Development Questions to help you release your inner anxiety blocks
---
All payments are secure with SSL Certificate which ensures you a secure connection, secure payment and standard security technology required by the international trade law.
NOTE: When you purchase an E-Book, you'll see a download link. Please download the E-Book right away, and save it to your device. It's yours for lifetime use. Enjoy