Healthy Turmeric Rice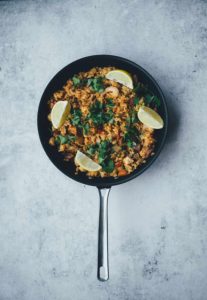 This healthy turmeric rice recipe is one of my all-time favorites, especially during the autumn season. The warm flavors of turmeric, combined with the vibrant colors of carrots and bell peppers, create a delightful dish. At times I use chopped pumpkin. You can use any veggies of your liking. You may also skip the veggies all together.
Personally, I prefer using basmati rice for this one, but whole brown rice is just as good.
I hope you enjoy this comforting and flavourful turmeric rice as much as I do!
Ingredients:
1 cup (180g) basmati rice
1-3 tablespoon olive oil
1 medium onion, finely chopped
 2 cloves of garlic
 2 carrots, diced
1/2 green pepper, diced
1/2 red pepper, diced
1 teaspoon turmeric powder
Salt to taste
2 cups ( around 475ml) water
Fresh cilantro/coriander  or parsley for garnish (optional)
Instructions:
1. Rinse the basmati rice under cold water until the water runs clear. Set aside.
2. In a large skillet or pot, heat the olive oil over medium heat.
3. Add the chopped onion and minced garlic to the skillet and sauté until they become translucent and fragrant.
4. Add the diced carrots, green pepper, and red pepper to the skillet. Cook for about 3-4 minutes until they start to soften.
5. Stir in the turmeric powder, salt. Mix well to evenly coat the vegetables.
6. Add the rinsed basmati rice to the skillet and stir it with the vegetables for a of couple minutes to toast the rice lightly.
7. Pour in the water and bring the mixture to a light boil. Once boiling, reduce the heat to low, cover the skillet, and let it simmer for about 15-20 minutes or until the rice is cooked and the water is absorbed.
8. Once the rice is cooked, remove the skillet from the heat and let it sit covered for a few minutes to allow the flavors to meld.
9. Fluff the rice with a fork and garnish with fresh cilantro or parsley, if desired.
10. Serve the turmeric rice as a delicious side dish or as a base for your favourite protein or vegetable dish.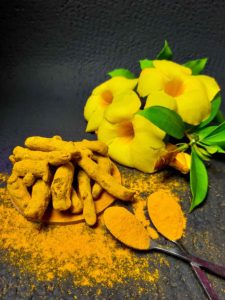 For more healthy recipes, enjoy 25% off my Ayurvedic immune boosting recipes. 
Price and Info HERE