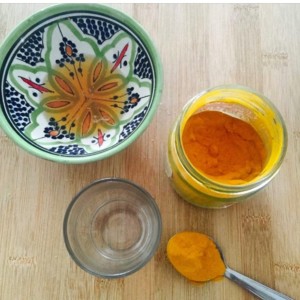 My easy cabbage-ginger fry is an immune boosting Ayurveda dish. It is low in fat and super healthy. You can cook this easy recipe  in 10 minutes!
You may enjoy this dish with brown rice or basmati rice. If you have done an Ayurveda Consultation with me, and you struggle with Vata imbalance these days, I recommend you to use basmati rice, and not brown rice. 
 You can adapt and adjust this recipe according to your taste. 
INGREDIENTS
1/2 cabbage (I use spring cabbage as it's nice and soft but you can use any cabbage you have)
3-4 garlic cloves
Salt as per your taste
5-7 Coriander seeds ( you may use 1/2 -1 teaspoon cumin seeds instead)
1/4 teaspoon turmeric
1/2 teaspoon ginger powder (You may use fresh ginger instead) 
Fresh parsley (optional) 
Fresh chili (Optional, if you like it a bit spicy) 
INSTRUCTIONS
Slice the cabbage into long slices, put aside
In a pan, add oil and let it warm up (low flame)
Add 3 garlic cloves (crush them with a knife to release its flavour)
Let the garlic be slightly brown
Add in ginger powder our fresh ginger
Add in coriander seeds (crush them in a mortar and then add them into the pan) . If you don't like coriander seeds, then us cumin seeds and add it into the pan
Add the sliced cabbage
Add turmeric and stir
If you want to spice it up, add chili as per your tase 
Add salt ( As per your taste)
Stir for 2-3 min
Add 2 table spoon water
Simmer on low flame for 5 min (if you have digestive issues, let it simmer for longer and allow the cabbage to real get soft
ENJOY this easy cabbage ginger fry.  Sprinkle with fresh parsley. Adjust the recipe to however you want. 
OTHER AYURVEDA RECIPES – My TOP 10 Ayurveda Recipes:
40% off this week HERE
Ayurveda Health Consultation