4 Day Yoga Retreat in Marrakech
This 4 day Yoga Retreat in Marrakech gives you a wonderful break and time to enjoy Marrakech. Choose your arrival date!  The Yoga Retreat has 2 classes a day and plenty of time to explore Marrakech.
WHO IS YOUR INSTRUCTOR?
Sally Goldfinger is your Yoga Instructor. She is based in Marrakech. Sally is originally from Denmark, living abroad for over a decade. Sally's teaching style is gentle, yet active. All her classes are tailored and aimed at building strength, improve flexibility, tone muscles and having fun!
The Yoga classes are suitable for everyone, no matter experience or age. However, classes are not suitable for very "hard core Yogi's", who are used to bend into knots and twist into extreme poses.
The Yoga classes are for those looking to maintain health and balance in a non-competitive environment, without the practice of extreme poses.
HEALTHY LIFESTYLE
On your Yoga Retreat you have the possibility to book a holistic consultation with Sally.  She is specialised in Ayurveda, a holistic system of health.  Ayurveda looks into our personal body-type, also known as dosha. Ayurveda takes into consideration what has caused an imbalance, who you are as an individual, and what body constitution you are born with.
YOGA RETREAT HIGHLIGHTS
Included you have the following:
3 nights/4 days accommodation in a luxury Riad, single room en-suite bathroom
Daily yoga classes with Sally (5 classes in total. All classes are optional)
Daily Healthy Breakfast
3 Delicious Moroccan Dinners
Personalized yoga get-away (Sally Goldfinger will be your organizer and teacher, she lives in Marrakech)
Professional teacher and organizer with 13 years of experience
No quick fix but we care about you and your personal needs and wishes
Towels
Yoga mat/rug (or bring your own mat)
WIFI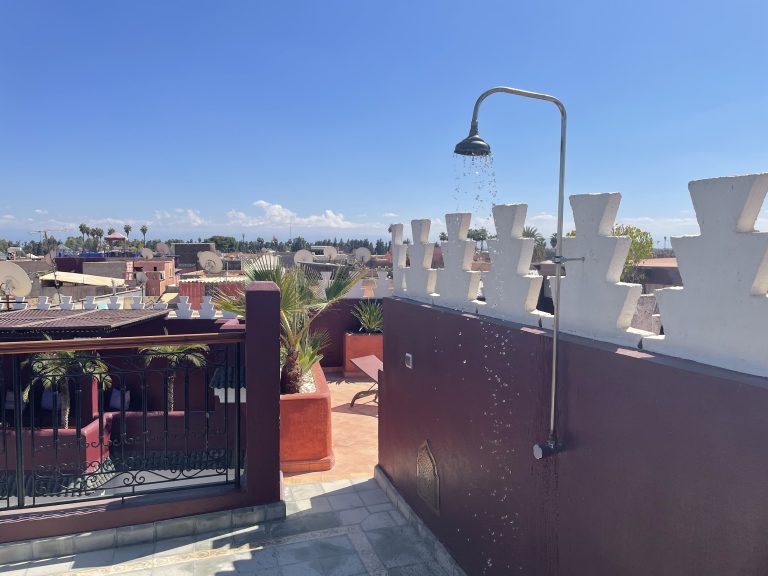 WHEN
All year round – choose your dates
ACCOMMODATION / PRICE
799€: Single room/private bathroom en-suite
725€ per person: Twin room/2 people sharing + private bathroom  en-suite

SUITABLE FOR SOLO TRAVELLERS
The4 Yoga Retreat is suitable for everyone. Most participants travel alone, so don't worry if you arrive on your own.
WEATHER
Check the weather forecast before you book. Marrakech weather is usually sunny with very blue skies. Spring and summer is hot. Winter season is sunny but can be very cold in the early mornings and evenings.
WHERE WILL I STAY?
The 4 day yoga retreat takes place in the old town of Marrakech Marrakech, also known as the Medina.
Only 30 min away from Marrakesh Airport,  you will enter an intimate and tranquil venue in the Medina, and feel at home away from home! All rooms are beautifully decorated with inspiring interior to make you feel comfortable. The beds are high quality to ensure you have good sleep-
You will enjoy an authentic atmosphere in a spiritual environment, and Yoga is practised outdoors on the magical rooftop or in the lovely courtyard (depending on the weather).
Subscribe to my monthly newsletter. Receive special offers and relevant updates on holistic health. You can unsubscribe any time.