The top 5 benefits of Sun Salutations in Yoga boosts our mental and physical health. The Sun Salutations practise is a great sequence which energises and strengthens the whole body.
I recommend anyone to try this amazing practise. Even if you are a beginner you will benefit from the practise. Always start with a little warm up before getting ready for your Sun Salutation practise. This prevents injuries and makes you feel centred and ready for your practise.
THE MEANING OF SUN SALUTATION
The word Sun Salutation comes from the the Sanskrit word Surya meaning, "sun" and Namaskara meaning, 'to bow to'. Each Sun Salutation round begins and ends with the namaste-hands mudra placed at the heart centre. The traditional Sun Salutation sequence origins in India where the Yogis practice the Sun Salutation at sunrise to receive the healing energy of the sun.
Many variations have evolved throughout the years and today you will find different Sun Salutation styles. I myself teach the classical sequence of Sun Salutation because it works around the whole body and also brings the mind into the practise. Further down you may read about the top 5 benefits of Sun Salutations in Yoga.
We are living in a fast paced world, and to me Yoga is a place to disconnect from pressure and tension, not a place to build more stress around the body and mind.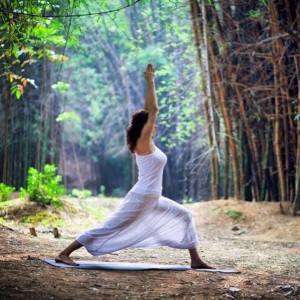 Here are the top 5 benefits of Sun Salutations
1.LENGTHENS AND TONES YOUR MUSCLES
A regular practise of Sun Salutations will bring tone, strength and flexibility to your body. As you move through the different poses in the Sun Salutation sequence your body opens up, your muscles feel less tense, and stress melts away from your mind and body.
2.INCREASES BLOOD CIRCULATION
If you practise Sun Salutation in the mornings you will soon feel the benefits of increased energy flow. If you like a faster sequence you can simply increase your rounds to boost your metabolism.
3.BALANCES YOUR BODY TYPE
Practising Sun Salutations daily helps balance the three body types, known as doshas. (Read more about doshas here). When your doshas are in balance you naturally feel happy, peaceful and content. Mental clarity and wellbeing is also a result of dosha balance.
4.KEEPS YOUR LOWER BACK HEALTHY
Sun Salutations can do wonders for your lower back. Too much siting and weak lower back muscles are often a result of lower back pain. Sun Salutations bring your lower back to life because the sequence strengthens your back and the minor and major abdominal muscles.
5. IMPROVES YOUR POSTURE
Today's modern lifestyle puts a strain to our spine which often leads to bad posture. The Sun Salutation sequence helps to improve your posture because the sequence opens the area around your shoulders, neck and chest, all of which accumulates stress and tension on a daily basis. By stretching these areas you create space and length to your upper back, shoulders and neck. It also helps you to become more aware of your posture when you're off the mat.
THE DEEPER MEANINIG BEHIND SUN SALUTATION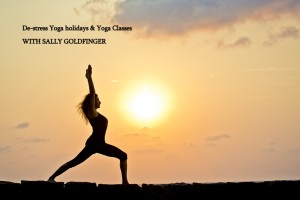 The beautiful thing about the classical Sun Salutation sequence is that it brings awareness to each and every movement, to the breath and to the mind. The transition from posture to posture is done together with an inhalation and exhalation and once the body gets used to the sequence you might start to feel a meditative state throughout the sequence.
Move slowly and gracefully and always breathe through your nose, not your mouth. Nasal breathing filters and warms incoming air and slows down your breath which gives the sequence a meditative state.
By practicing slowly and mindfully you will feel peace and lightness from within. We all want to feel great, light and happy, so why not practise a wonderful and traditional sequence that feels amazing?
WANT TO TRY A YOGA CLASS? BOOK A PRIVATE SESSION OR MORE: