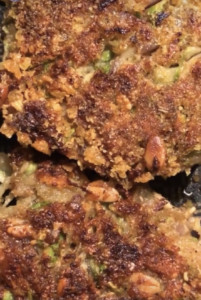 Healthy vegetable patties
These healthy vegetable patties are a wonderful Ayurveda dish, immune healthy and delicious. They are perfect to eat for lunch or dinner together with rice or a bowl of salad or steamed veggies. You can also use these Ayurveda vegetable patties to make your own homemade burger.
I make my Ayurveda vegetable patties vegan, because I personally do not like the taste of eggs in my patties. I do like to eat eggs (omelet, hard boiled eggs, etc), however I dislike the taste of eggs in my homemade Ayurveda patties. You can, however, add 2 eggs instead of flaxseeds and they will be just as good. See recipe below.
Remember: You can adapt and adjust the recipe according to your taste, and use carrots instead of zucchini. If you love cheese, you could even add cheese to the recipe and make it non-vegan, if you prefer.
Below you have my ingredient list:
INGREDIENTS
1 Tablespoon flaxseeds (to use instead of 2 eggs) and 3 TBSP water (mix and put aside for 20-25 min so it gets a thick texture)
If you prefer to use eggs, then use 2 eggs instead of flaxseeds
250 gram/ 2 cups  grated zucchini (I used 6-8 small zucchini's. If you use bigger ones, then 3-4 should be enough, but check measurements if you prefer exact measurement. Make sure you strain the grated zucchini in a tea-towel to remove excess water
1/4 teaspoon salt
1/2 onion
3 tablespoon flour or oats (you may add more to thicken the texture a bit)
1/4 teaspoon cumin powder (optional)
If you want more flavour, you could add 1 garlic clove (crushed)
INSTRUCTIONS
Place 1 TBSP flaxseeds in a bowl with 3 TBSP water, put aside while you prepare the rest
Grate the zucchini, and remember to squeeze out all excess water with a tea towel
Chop the onion
Add all ingredients in a bowl. Mix well
Oil a pan and let if get a bit hot
Once it's hot, use an ice-cream scooper or a spoon and scoop out even sized amounts of the batter into the frying pan. You can also use your hands and form the patties and make them as thin or thick as you like
Let the patties fry for a couple of minutes and flip over. If you enjoy your patties extra fried, then leave them to fry for a little longer
You could make these in the oven instead. However, I haven't tried that myself. But if you don't enjoy to fry your food, you could give it a try in the oven.
ENJOY! And feel free to adjust the vegetable patties to however you want. Cooking with intuition is what people used to do. Your grandmother did it. And you can do it too!
FEELING ANXIOUS OR A LITTLE STRESSED?
Check out my inspiring Meditation Audios For Stress, Anxiety & Binge Eating