Chickpeas are a great source of protein and fiber. This dish is one of my favourite meals, and it's super easy to make. I like to enjoy the dish with rice or semolina, but you can use any other grain you like or enjoy the dish on its own.
If you don't have time to cook your chickpeas, then get them from your local health food store. Make sure you get them in a glass jar to avoid BPA, which is a harmful chemical found in canned foods.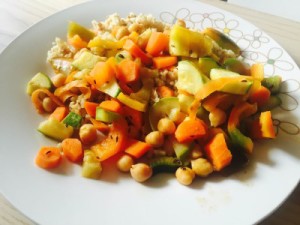 Ingredients:
1 cup of cooked chickpeas (add more if you cook for 2-4 people)
2 small carrots
1 small zucchini
1/2 onion (finely chopped)
1/2 green bell pepper
1/2 teaspoon cumin seeds
1/2 teaspoon ground ginger
1/2 teaspoon sweet paprika (optional)
1/2 garam masala
Sea salt
Method:
Heat oil in a pan and add the cumin seeds. When they pop, add the chopped onions.
Lower the flame, and add the ground ginger, paprika and garam masala. Stir well.
Add all the chopped vegetables.
Mix well and add salt (as pr your taste).
Add a bit of water, and let it simmer for a few minutes until the veggies are cooked (I like them slightly crispy, not overcooked).
Add the cooked chickpeas into the pan just before you serve the dish. Stir well and let it simmer for 1-2 minutes.
Optional, sprinkle fresh parsley or chopped coriander before serving. Enjoy!