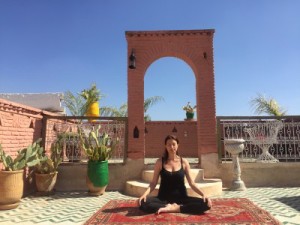 Best Yoga Classes in Marrakech
Looking for the best Yoga classes in Marrakech?
Sally is one of Marrakech's s most in demand yoga teachers, teaching private and group classes in the city. She is a full-time Yoga Teacher based in Marrakech.
With more than 11 years of experience, Sally teaches a blend of gentle Hatha and a stronger Vinyasa Yoga. Her classes are suitable for beginners, and people of all age groups. Sally's approach to Yoga is soft, meditative and gentle.
Being a Yoga Teacher in Marrakech, she adapts her classes to everyone's needs no matter age or ability.
YOGA FLOW MEDITATION
Sally's classes feature:
Natural flow
Correct alignment to avoid injuries
Creative sequencing
Significance to where your body and energy are at without forcing or pushing or creating a session that doesn't suit who you are and what you need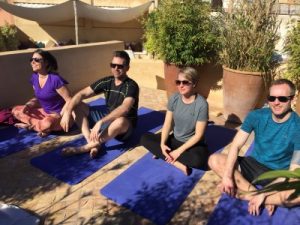 Private Yoga Classes
Sally mainly teaches private classes in exclusive settings in Marrakech. Want Sally to come to your venue? Contact her here.
You can also join Sally's group classes in the Medina (Old town of Marrakech) or in Gueliz, new town of Marrakech. Contact Sally for more info, price and booking.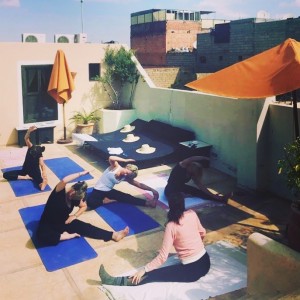 Sally's classes are welcoming and inspiring. She invites beginners and intermediate Yoga practitioners to enjoy her Yoga classes. You will feel safe, comfortable and uplifted.
Originally from Denmark, Copenhagen, Sally has been teaching in sunnier places for the past 11 years. She is based in Marrakech herself and always happy to give you insider info and her secret tips of where to go.
Apart from teaching Yoga, Sally is a an Ayurveda Nutritionist and offers consultations where tongue and pulse reading is involved to check your body type (dosha). She also holds workshops and talks in exclusive settings in Marrakech.
Sally continues to encourage and inspire more people to stretch with Yoga, become more aware of their health, body and mind focus and simply feel better inside out.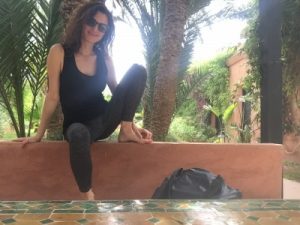 TESTIMONIALS:
I was completely new to Yoga and honestly never really connected with any teacher. Sally's Yoga classes were a whole new experience for me. There was no "competition" or judgment in her classes which made me feel comfortable from the beginning. I was not very flexible when I started. Actually I was stiff and many of the stretches like doing a forward bend my hands were level with my knees. After only two weeks with Sally's Yoga I could touch my toes. My strength has also increased and mentally I feel more calm and relaxed. Wish I could continue taking Sally's classes. Her voice and pace is so soothing and kind.
Sarah, Private Yoga Class in Marrakech
To me the Yoga experience with Sally was so much more than "just" Yoga classes and anoher Yoga Holiday. It was a cultural experience, a food experience and a soul connecting journey. Sally taught me how to listen to myself, my body and my wellbeing each and every day. I just feel so different inside. Truly and amazing and caring teacher. Thanks, Sally.
Lena, Yoga Retreat in Marrakech
Thank you Sally for your amazing Yoga classes. You have a wonderful and rare energy and a genuine concern for everyone in your class. I feel taller, lighter and happier!
Louis, Private Yoga in Marrakech
MORE TESTIMONIALS CLICK HERE