Best Wellness Retreat in Morocco
If you are looking for a relaxing wellness retreat in a stunning location, look no further. Enjoy the best wellness retreat in Morocco with a week of Yoga, recharge in the stunning Moroccan nature and nourish your body with healthy organic meals with produce from our local farmers in the region.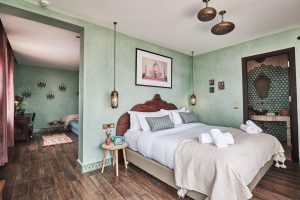 LUXURY AND COMFORT
This wellness Retreat is for anyone in need of time away from daily routine and stress. It's important you have a good bed with a high quality mattress for a good nights sleep. We want you to feel home away from home!
You are guaranteed a wonderful Yoga holiday full of nourishment, daily yoga, healthy food, spa treatments and more.
Who is it for:
Anyone in need of relaxation and time away from daily stress, routine, etc.
For busy professionals in need of disconnect
For solo travellers who seek comfort and nourishment
Couples or friends who enjoy Yoga and well-being
Anyone who values quality over quantity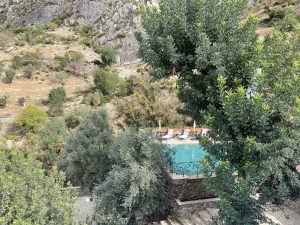 WHAT TO EXPECT:
On this wellness retreat you can expect comfort, a feeling of home, stunning scenery, nature, fresh clean air, plenty of space to relax, enjoy spa treatments with enough time for rejuvenation.
You might wonder why this is considered the best wellness retreat in Morocco? Because you have all the luxury to make your stay feel cosy, home and happy:
Spacious rooms and not small cramped up rooms
Nice luxury bathrooms
Kettle in the room
Mini fridge to keep your water fresh and cool
Open views to nature from the pool and rooftop
Comfortable beds with high quality mattresses
THE SCHEDULE:
No strict schedule but time between the activities so you have time to enjoy, rather than having an intense schedule to stress the mind. You also have a charming local town nearby so you won't feel completely isolated. The local people speak well English in North Morocco and also Spanish as the North is very close to Spain.
EXAMPLE OF A DAILY SCHEDULE:
Arrival
From 2pm  (If you arrive before 2 pm, you can leave your luggage in the reception until your room is ready).
No Yoga on arrival day.
Dinner at 7.30 pm. Don't worry if you arrive later. Dinner will be arranged for late arrivals too.
A DAY CAN LOOK LIKE THIS:
8:30Am: Morning Yoga
9:45AM: Nourishing Breakfast
11:17:00: Free time or excursions, hammam or massage, pool relax, etc
If you wish to have lunch included in your stay, it will be served between 1pm-2pm
17:30-18:45: Yoga
19:30: Dinner
Things you will enjoy: 
6 nights/7 days accommodation in a Luxury venue, single with a comfortable big double bed, luxury en-suite bathroom
Luxury room with all you need (mini fridge, kettle, hair dryer, organic shampoo, body wash and cream)
Daily Healthy Breakfast
Daily Delicious Moroccan Dinners (Let us know what food you prefer)
Daily tea and snacks served by the pool
Daily inspiring yoga classes with Sally Goldfinger (2 classes a day, some days there is no yoga but an excursion instead)
1 hour session with Q&A about Ayurveda, Holistic Health, disease prevention and anything you want to know more about
30 min cleansing and refreshing Hammam
Personalized yoga get-away (Sally Goldfinger will be your organizer and teacher, she lives in Morocco)
Professional Yoga Instructor and organizer with 15 years of experience
No quick fix but we care about you and your personal needs and wishes
Towels + Pool Towels
Yoga mat/rug (to keep your own energy, we recommend you bring your own mat or rug that no-one else has used)
WIFI
Bottled water (However, the water up here in the North of Morocco is clean because of the many mountains –  it's safe to drink in case you prefer to cut down on plastic)
Pool access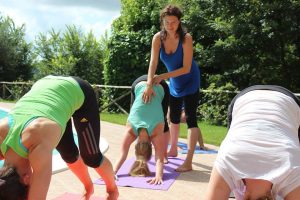 FOOD
The food is fresh and delicious. We use organic produce from the local farmers in the region. Since we pride ourselves to be the best wellness retreat in Morocco, we want to offer everyone the best food quality and limit pesticides and chemicals.
Example of meals: 
Breakfast is a variety of wholesome foods and the traditional Moroccan breakfast.
You can then chose from the table whatever you prefer to eat.
There's fruits, local yoghurt, moroccan wholewheat bread, honey, jam, oats, muesli, eggs, etc.
Dinners will be delicious Moroccan meals and vegan and vegetarian options are available.
If you would like to try local organic chicken or local fresh fish meals, this is also an option.
There is food for every taste and every diet needs.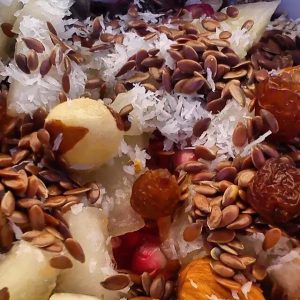 Subscribe to my monthly newsletter. Receive special offers and relevant updates on holistic health. You can unsubscribe any time.