7 Day Private Yoga Retreat with Sally Goldfinger in Marrakech
This Retreat is for individuals in need of a relaxed retreat without being a part of a group, but rather a wish to disconnect and enjoy some time away from daily stress and to-do-lists.
The retreat can also be booked privately for a group of friends, family, etc.
PRIVATE & CUSTOMISED 
THE RETREAT
This 7 day Private Retreat in Morocco with Sally Goldfinger is a customised retreat for you only – or for you and a friend or group of friends., family, etc.
You can choose the location you mostly prefer (nature, pool venue,  outskirts, the Medina of Marrakech, closer to the ocean, etc). This Retreat can also be enjoyed in the stunning North of Morocco. Let Sally know the location you prefer, and all will be arranged for you!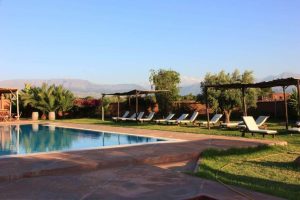 YOGA
The yoga classes are Vinyasa inspired for strength and stamina in the morning. In the afternoon the Yoga classes are more gentle, Hatha inspired, where the focus is deeper stretches and de-stress.
All classes are tailored to your personal wishes and health goals. The Yoga classes can  be aimed at:
Building strength
Improving flexibility
Tone muscles
De-stress
Meditation and deep relaxation with sound bowls
Sally's Yoga classes are suitable for everyone no matter their experience or age. However, classes are not suitable for very "hardcore yogis", who are used to bending into knots and twisting into extreme poses and enjoying a competitive environment.
RELAX
A 7 day Private Retreat in Morocco  gives you the opportunity to enjoy a personalised holiday in a nurturing and safe environment. You may also book a couple days instead of a full week. Perhaps you prefer 10 days?
Contact Sally today and let her know what you prefer. 
A Private Retreat is a wonderful experience and a well-deserved break from everyday stress, to-do lists and calendar reminders. Imagine yourself in a stunning setting where all meals are made for you and you get to enjoy Yoga outdoors with breathtaking views. 

NOURISHING FOOD
Freshly prepared, delicious meals are made every day for you on your private retreat in Marrakech or elsewhere in Morocco.
You choose the location (City? Nature with pool? Closer to the ocean? Mountains?) and Sally will take care of all things necessary. You can stay in a luxury Riad in Marrakech, in a coastal town out of the city, or in an exclusive high-end Resort or an Eco Farm in the outskirts. The choice is YOURS!
Food is always:
Three delicious meals a day
Organic and local
Wholesome foods
Warm dinners
Filling lunches
Breakfast with oats, wholesome bread, local cheese, homemade jams, eggs, yogurt, fruits, plant-based milk, etc.
A HOLISTIC EXPERIENCE
Should you wish to create a more holistic experience for yourself, you can choose to have a 1- hour private ayurveda consultation with Sally.
You will have the opportunity to discuss any health questions you may have, have a personal holistic program designed for you (dietary, lifestyle, health tips, yoga techniques in alignment with your body type and more) – all of which you can use when you are back home from your Retreat.

PAYMENT:
Easy payment system via the online payment system on the website. You can pay using visa or Master card, Paypal, etc.  The system is secured with SSL to ensure encryption safety.
You are welcome to book or inquire before booking.