Yoga Retreat in Morocco
This Yoga Retreat in Morocco is for anyone who seeks time to disconnect in nature but yet wish to be near a local town to enjoy the cute markets, go for walks, enjoy calm atmosphere in a place of immense beauty.
WHY A YOGA RETREAT IN MOROCCO
Morocco is a beautiful destination, and for this Yoga Retreat you will be staying in North Morocco, in one of the most beautiful regions of Morocco. It's clean. Hassle free. Safe. And it doesn't have the intense and stressful vibes like Marrakech.
Sally Goldfinger is based in Morocco herself where she has lived for 7 years.
The Yoga Retreat in North Morocco includes the following:
5 days accommodation in a Luxury venue, comfortable big double bed, luxury en-suite bathroom
Luxury room with all you need (mini fridge, kettle, hair dryer, organic shampoo, body wash and cream)
Daily inspiring yoga classes with Sally (5 classes in total)
Daily Healthy Breakfast
3 Delicious Moroccan Dinners (Let us know what you food you prefer)
Guided tour in the medieval town. Local guide who is 7th generation in this charming blue town will give you lots of insights
Guided walk up to the stunning view point of the town to take magnificent photos and discover the beauty of the Blue Pearl of Morocco
Personalized yoga get-away (Sally Goldfinger will be your organizer and teacher, she lives in Morocco)
Professional Yoga Instructor and organizer with 15 years of experience
No quick fix but we care about you and your personal needs and wishes
Towels
Yoga mat/rug (or bring your own mat)
WIFI
Bottled water (However, the water up here in the North of Morocco is clean because of the many mountains –  it's safe to drink in case you prefer to cut down on plastic)
Pool access and pool towels
WHEN
2023:
March:  Choose any date of your convenience
April: Choose any date of your convenience
May:  Choose any date of your convenience
June:  Choose any date of your convenience
September: 21-25  + 24-28 + 27-31
October: 5-9 +13-17 +19-23
November: 3-7 + 10-14
ACCOMMODATION / PRICE
957€: Single room/double bed + private bathroom en-suite
799€ per person: Twin room/2 people sharing + private bathroom  en-suite

A YOGA RETREAT IN NORTH MOROCCO IS SUITABLE FOR SOLO TRAVELLERS
You will enjoy an authentic atmosphere in a spiritual environment, stunning views, fresh air, relaxed atmosphere, luxury with all you need, breathtaking nature views,  Yoga outdoors on the magical rooftop by the pool with open views.
Please note, that the venue does not have a Yoga shala/Yoga hall. We prefer outdoors fresh air so you can enjoy the magical views, rather than being indoors in a yoga hall.
WHO IS YOUR YOGA INSTRUCTOR?
Sally Goldfinger is your instructor. Sally is also specialised in Holistic nutritional wellness with Ayurveda as her niche.
Sally's Yoga classes are suitable for everyone no matter experience or age. However, classes are not for very "hard core Yogi's", who are used to bend into knots and twist into extreme poses.
The Yoga classes Sally offers are for those looking to maintain health and balance in a non-competitive environment, without the practice of extreme poses.
All classes are tailored and aimed at building strength, improve flexibility, tone muscles and feeling light and relaxed from within!
WHERE WILL I STAY?
North Morocco – the region of Tangier-Tetuan. You will stay in the most beautiful part of North Morocco, known as The Blue Pearl of Morocco. It's not stressful and busy like Marrakech. Here you can walk relaxed in the old town without the pollution from mopeds and cars passing. You can enjoy fresh and clean air, delicious home-cooked food, stunning views from the pool and much more.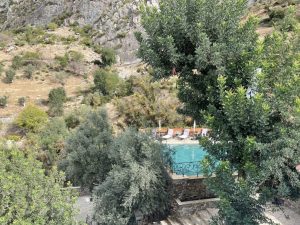 Subscribe to my monthly newsletter. Receive special offers and relevant updates on holistic health. You can unsubscribe any time.