Yoga in Marrakech is for travellers, and people who work in the city, for those who need a break from daily tasks. The classes are tailored to your needs. You can book Sally to teach at your Riad, Villa or privately at your home. Or join one of Sally's Yoga sessions in Marrakech. More info here.
Email Sally for a detailed price list or Call: +212 652168655
Sally's teaching style reflects healthy flow and alignment. Her approach is gentle with respect of every body type. "Yoga is for everyone, no matter age or ability. Yoga has nothing to with how flexible you are or how far you can stretch your body. Yoga is all about feeling light and moving with awareness and respect of your body, leaving class feeling happy, balanced and relaxed".   Sally Goldfinger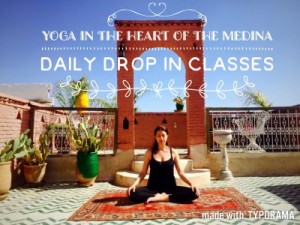 YOGA IN MARRAKECH
Yoga in Marrakech gives you an opportunity to stretch, tone and release stress from your body and mind. The classes are being taught by Sally Goldfinger, a full-time, qualified, experienced yoga teacher with expertise in Yoga Therapy, Holistic Wellness, Ayurveda and nutritional wellness. Sally's Yoga classes in Marrakech are suitable for beginners and all levels of Yoga. With her gentle approach you will feel welcome, safe and relaxed in her class. Sally teaches classes at various levels in Marrakech. Her classes are suitable for beginners and students of various levels.
STYLE OF YOGA
The style of Yoga is Hatha & Vinyasa Yoga –  Hatha is gentle with focus on deep stretches, breathing and relaxation. Vinyasa is a stronger flow if you look for a more challenging class.
Read more about Sally here.
Email Sally for a detailed price list or Call: +212 652168655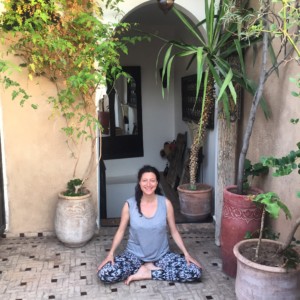 Want to know what other people say about Sally's classes – Read Testimonials here.