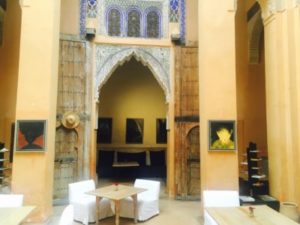 A Yoga Retreat in Morocco is soul inspiring. Morocco has depth and magic, and a rare uniqueness that is hard to find nowadays. I remember when I went to Morocco for the first time. I was blown away! The colours, the magic, the smells, the food, the markets, the mystery.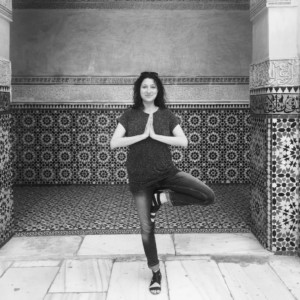 Morocco – the perfect Yoga destination
A Yoga Retreat in Morocco is a unique experience. Morocco might not be the first place that comes to your mind when you consider to join a Yoga Retreat, however Morocco is the perfect destination for a Yoga Retreat experience , because it has a combination of spirituality, stunning venues,  spectacular rooftops, delicious food and so much more.
Why a Yoga Retreat in Morocco?
Two years ago when I was sitting in my silent morning meditation, a voice came to my head: "Morocco". I didn't understand why. I have no relations in Morocco, I never thought about traveling to Morocco and Morocco was never on the list of places I wanted to visit. I remember times when I've met travellers who've been to Morocco. It wasn't positive stories I heard from them. However, the silent voice that I heard in my  meditation sessions kept coming back to my head. And for more than 6 months they would whisper "Morocco".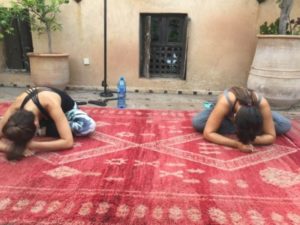 A year after, I decided to follow that inner calling and I packed a little suitcase, and off I went on a holiday. I had no expectations. I came back several times that year to plan and organise my Yoga Retreats. I also did profound research to check work opportunities in my field of work. It wasn't easy and after many years in Spain, I decided to start my business in Morocco.
I am now living in Marrakech, it has been almost 3 years. I have gained a lot of insight to the culture, food, traditions, customs and over-all life. I know where the best restaurants are, where to go, how to get around and I love to share my knowledge with my Retreat and Yoga customers.
A soul inspiring experience
A Yoga Retreat in Morocco is a soul inspiring experience. The peaceful magic on the rooftops, Yoga sessions in a Riad to the sound of singing birds, the exotic smells from the souks (markets), the slow cooked tagines – all of it makes it a perfect Yoga experience. If you come to Marrakech, the city can be intense. There is a lot of movement, the souks are busy and there are a lot of impressions in one place. The old town, Medina is rich in history and culture. You can also choose to disconnect one my All Inclusive Ayurveda & Detox Retreats, they take place away from the city, and it's a whole other experience.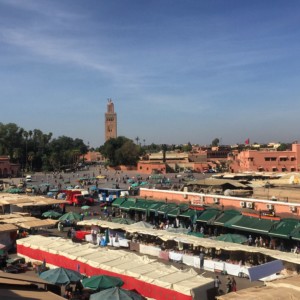 Marrakech – old town, Medina
Essaouira, the peaceful coastal town 
The coastal town, Essaouria has a complete different vibe than Marrakech. The Medina (old town) here is more laid back, it is less busy and intense. You have the sea, lots of fresh air, and it is an easy ride from Marrakech. 2.5-3 hours by car or an air-conditioned bus.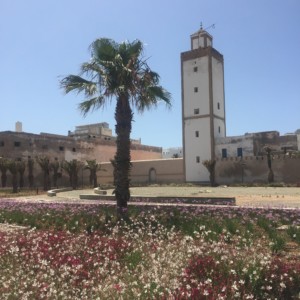 Essaouira is a peaceful coastal town
Food – Vegetarian, Vegan, Meat
Morocco is the perfect place to enjoy healthy meals, stunning scenery, unique culture and customs. You have delicious couscous, tagine with options to enjoy vegetarian, fish, meat, chicken or lamb tagine, fresh barley bread, inspiring salads, date cakes, almond briouatsthe and so much more.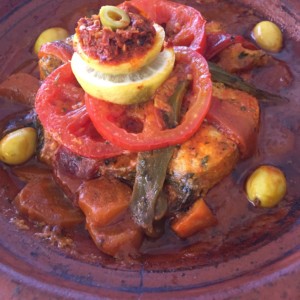 Moroccan fish tagine
Spiritual Friday – Couscous & Yoga
If you are in Marrakech for the weekend you can join my "Spiritual Friday Event". It is a fun way to connect with other people, practise Yoga and share a healthy meal.
It takes place the 4th Friday of every month – 11.00am-1.30pm.
It is tradition to eat couscous in Morocco on Fridays. Come and inhale the good and the positive and eat delicious home-cooked food.
Contact me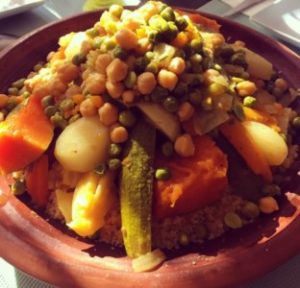 Vegetarain Couscous
Argan oil
The goats in Morocco are an important part of the argan oil production. They climb the argan tree and eat their fruits. They spit out the hard nut, and the farmers collect the nuts. The local women grind the nuts in a special stone grinder to produce the argan oil, and the most amazing pure oil is ready to use. The smell is heaven, and you can enjoy the roasted version (salads, dipping bread) or the non-roasted for skin and hair care. I always enjoy to visit the area where the oil is produced.
Argan oil is known for its health benefits and youthful skin glow. Forget about the argan oil you get in beauty products in the West. It has nothing to do with the pure argan oil you find in Morocco. The argan tree grows in Morocco. Inside the argan fruit grows a little nut. This is what gives us the argan oil. For generations the argan oil has been used for skin and hair care in Morocco. The oil is rich in vitamin A and E.
For more information about my soul inspiring Yoga Retreats Morocco and Yoga events in the country of magic get in touch by clicking: Contact.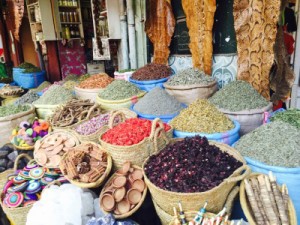 Contact me