AYURVEDIC SNACK BALLS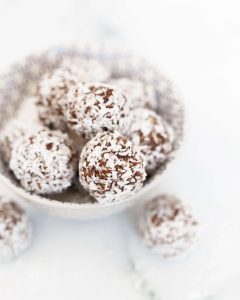 Craving something sweet without artificial colours and unhealthy processed oils?
Try my quick and easy Ayurvedic snack balls. They take minutes to throw together in a blender (you can also use a hand blender), filled with good ingredients and an excellent snack to go.
No complicated ingredients. You might have all the ingredients at home.
YUMMY AYURVEDIC SNACK BALLS
Ingredients
80 gram oats
150 gram dates
3 tbsp dark cacao
1 tbsp honey (optional)
1/2 fresh lemon (optional)
1/4 tsp cinnamon (optional)
Directions
Blend all the ingredients apart from the honey
Add the mixture to a bowl. Add the honey and mix with your hand or a spoon.
Optional squeeze 1/4 a lemon and add cinnamon.
Form into balls
If you prefer the snack balls less sweet you don't have to add the honey.
For more flavour you can roll them in coconut and add a bit more cinnamon and/or shredded lemon peel.
You can store the energy balls in a tupperware, in the fridge. Or eat them right away.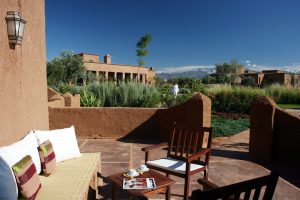 SPECIAL OFFER IN MAY 2023: 
9-12 May or 10-13 May: Get 25% discount for 3 people traveling together
Location: Lush pool venue in the outskirts of Marrakech, all included – see photos and info HERE
ALL YEAR ROUND OFFER: Bring a friend and get 10% off.