New Year Yoga Retreat – Marrakech Magic
New Year Yoga Retreat – Enjoy 5 days/ 4 nights in magical Marrakech. Enjoy a delicious 3 course New Year dinner with food that will make your mouth water. Book a hammam or a massage, walk in the lively souks (markets), visit the famous Majorelle Gardens (free shuttle is offered), or enjoy a day trip to the Atlas Mountains.
This New Year Retreat is suitable for everyone, no matter age or yoga experience. Most people travel alone, so don't worry. Come as you are, and enjoy a relaxing stay in the magic of Marrakech.
Sally Goldfinger is your teacher and organiser. She lives in Marrakech and will give you insider info tips. With 11 years of experience in the field of Yoga & Holistic Wellness, Sally shares her unique knowledge in the practise of Yoga and Ayurveda. The week is suitable for beginners. Come as you are and leave all your worries behind you.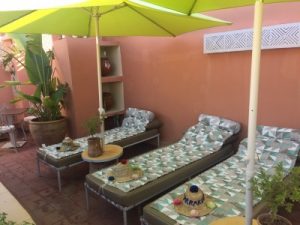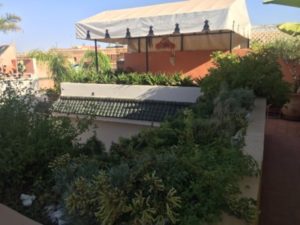 When
Month
Dates
December/Jan
29 Dec-2 Jan
PRICE
Room
 
Single room ensuite
Shared room ensuite
€889
€789
Inquire Now
The price includes:
The price does not include:

5 days/4 night's Accommodation in luxury Riad
En-suite bathroom
Towels
Daily Yoga classes
Daily breakfast
1 Welcome dinner
1 New Year dinner – 3 course delicious  Moroccan food Choose between:vegetarian, chicken or lamb. Includes snacks and wine
1 free shuttle to Majorelle Gardens
1 January Afternoon healthy cake & snacks & tea to celebrate to welcome the New Year
Tea & Fruits
Free bottled water
Free pick up from airport 2pm
Free drop off to airport 12pm
WIFI

Flights
Airport transfers
Travel insurance
Book Now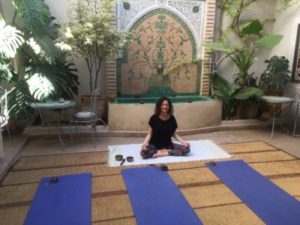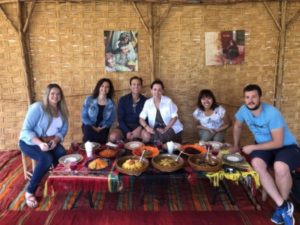 LOCATION
Only 30 min away from Marrakesh Airport,  you will enter an intimate and tranquil venue in the Medina (old town), in the best location of the old town. It's safe and quiet and you will feel at home away from home! All 6 rooms are beautifully designed with inspiring interior to make you feel comfortable. Each room has comfortable double beds with ensuite bathroom. You will can enjoy the magical rooftop or relax in the courtyard, go and explore the markets of the old town, drink coffee on a rooftop cafe overlooking the exotic feel of Marrakech or relax at the venue and slow down. The week is yours.
HOW TO GET HERE
There are many direct flights to Marrakech/Menara Airport. You can fly from or via London, Madrid  and many other major cities. Including in your stay you have 1 free pick up and 1 free drop off. Please note that the free pick up is on the 29 December 2pm only. You can wait at the airport for the other arrivals or if you prefer to get to the venue before, you can be picked up from the airport at your time for the price of 250 MAD (25 euro) one way. One of our local drivers will wait for you and make sure you arrive hassle free to the venue. The drive is smooth and easy, and only a 25-30 min drive from the airport.
The free drop off is on the 2 January 2020 12pm only. If you need to leave later or earlier in the day, price is 250 MAD.
      
YOGA
You will have a lovely Yoga experience in a spiritual environment. The Yoga classes are held on the rooftop or in the beautiful courtyard/patio, depending on the weather. All classes are tailored and aimed at building strength, improve flexibility, tone muscles and having fun!  Classes are suitable for everyone no matter experience or age. However, classes are not suitable for very "hard core Yogi's", who are used to bend into knots and twist into extreme poses. The Yoga classes are for those looking to maintain health and balance and enjoy classes without the fear of competition. The New Year Retreat usually attracts solo travellers and the group is often between 6-8 people with a lovely relaxed and positive vibe.
Inquire Now
SCHEDULE (might vary)
Morning:
7:30-8:00am (tea for those who wish to wake up a bit earlier)
8:30am – 9:45am  Yoga
9:45am – 11:00am Delicious breakfast
10:30am-5:00  Free time to enjoy Marrakech, relax, read books, book a hammam, visit the Majorelle Gardens, enjoy a day by the ocean, and much more. The time is yours.
1 January: 4pm Cake, snacks  & Tea to welcome the New Year
Afternoon Yoga:
5:30pm-6:45pm
Dinner:
19:30  1 Welcome dinner is included – and 1 unique 3 course New Year dinner. The two other evenings you are free to enjoy one of the many rooftop restaurants in the area. There is food for every budget.
New Year Dinner
31 December Delicious Moroccan 3 course dinner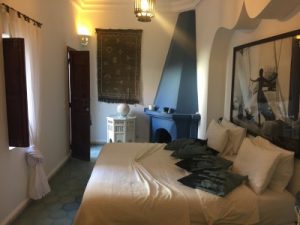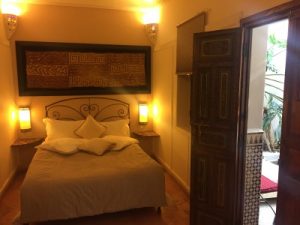 AYURVEDA HEALTH CONSULTATION
If you are interested to know more about your individual health, you can book an Ayurveda Consultation on your Retreat. Not sure that an Ayurveda consultation is? Read more here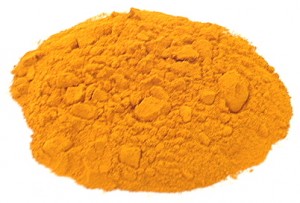 THINGS TO DO
Try an all inclusive hammam and leave feeling fresh, glowy and soft
Enjoy a day out in the Atlas mountains visiting a local Berber village & eat lunch at a local family house
Visit the charming coastal town Essaouria
Enjoy a manicure or pedicure
Enjoy a massage
Visit the Majorelle Gardens ( free shuttle offered to the area)
Drink daily fresh juices and detox
Enjoy a glass of wine on one of the many rooftop cafes
Slow down
Relax with a book
Do what you like to do
Inquire Now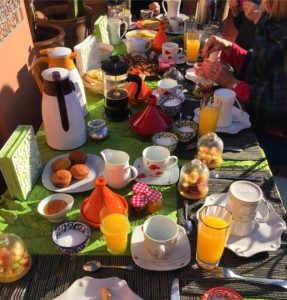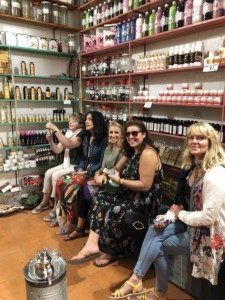 Inquire Now
 Ask a Question
Contact Me
Payment
A non-refundable deposit of 400€ is due for each person upon booking. The rest of the payment is required 8 weeks prior to the beginning of the holiday.
Cancellation policy
A cancellation less than six weeks before the holiday begins: We apologize, but we are unable to refund any payment. A cancellation between 6- 8 weeks before the holiday begins: We will refund 50% of the total cost.
Please note:Sally Goldfinger does not accept any liability for cancellations, delays or changes caused by closure of airports, civil strife, industrial action, natural disaster, technical problems to transport, staff cancellations, terrorist actions or threats, unforeseen changes in your personal circumstances, sudden death in the family or other events beyond our control; participants' medical or psychiatric conditions which may develop during or subsequent to the Retreat; loss of, or damage to, personal property of participants.
Sally Goldfinger  is not liable for any injuries you may incur. Yoga classes & use of our facilities are undertaken at your own risk.