Healthy Detox – Yoga & Cleansing Foods
Enjoy 5 days with a healthy detox giving your body healthy and delicious healthy foods, daily yoga and time to relax. This detox isn't about juice fasting or starvation. You will enjoy daily nourishing breakfasts, and healthy nourishing evening dinners. During the day there will be fresh seasonal fruits, nuts and healthy snacks, tea and water for you.
This week is also a good opportunity to clear up stagnant energy. If you feel stuck, unmotivated, tired or heavy, this Retreat will give your immune system a boost and your inner soul new and inspiring energy.
This Retreat is suitable for everyone, no matter age or experience. Included in your Retreat is an Ayurveda workshop  – an inspiring talk/share which will give you clarity and an understanding about the principles of Ayurveda lifestyle, how to maintain balance and how to reduce anxiety and stress, how to prevent diseases, how to understand an imbalance, the 3 body types/doshas, and much more. Come and enjoy a healthy week in beautiful authentic and laid back surroundings.
If you wish to experience Marrakech before or after your 5 days by the coast, this can be arranged for you. Don't hesitate to contact me about a venue in Marrakech, organising your Marrakech stay, booking private yoga sessions with me, if you wish to continue a healthy holiday.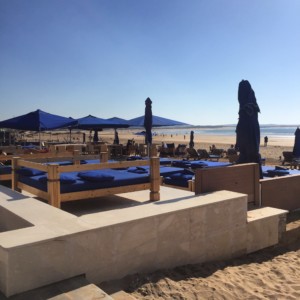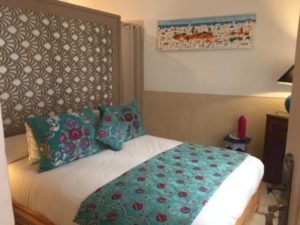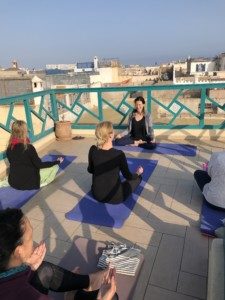 Highlights:
5 nights in luxury Riad, private room en-suite bathroom
2 min walk from the beach
Daily Yoga classes with Sally Goldfinger
2 Yoga classes a day
Daily Ayurveda Talk/Sharing for you to learn about your body, imbalances and how to cure yourself
Total relaxation – I will take care of your stay and all details
Home feeling with 6 rooms in total, no massive factory Retreat
Massage and treatment room at the venue
Daily delicious and healthy breakfast
Fruits, tea, healthy cleansing snacks, water
Nourishing and cleansing dinners
Towels
Yoga mat/rug (or bring your own mat)
Personalised Retreat – Sally Goldfinger will be your organiser & teacher (she lives in Morocco)
1 Free pick up from Marrakech (2pm) going to Essaouria
1 Free drop off to Marrakech (12pm) going to Essaouria
Massage room inside the venue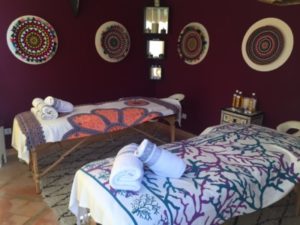 Book Now
When
21-26 February 2020 (cancelled due to corona crisis)
9-15 March (cancelled due to corona crisis)
15-20 April 2020 ( (cancelled due to corona crisis)
8-13 January 2021
19-24 February 2021
Accommodation/Price      
All inclusive Retreat, single room with double bed/en-suite bathroom: €1089 for 1 person 
All inclusive Retreat,Luxury suite with king bed/ en-suite bathroom with big bath tub: €989 per person if 2 people sharing double bed
Inquire Now
The final price includes:
The price does not include:

5 night's sccommodation in lovely single room, private bathroom
All rooms have ensuite bathroom, never shared bathroom
Personalised stay
2 Yoga classes a day
Daily Ayurveda Workshops/Talks
Flexible Yoga schedule (all sessions are optional)
Holistic Stay
Daily healthy breakfast
Healthy dinners designed by Sally Goldfinger Yoga
Free airport pick up from Marrakech to Essaouria
Free airport drop off from Marrakech to Essaouria
Towels
Yoga mat/rug (or bring your own mat of you prefer)

Flights
Travel insurance
Airport Pick up/drop
See what other customers say about their experience. Click here
Location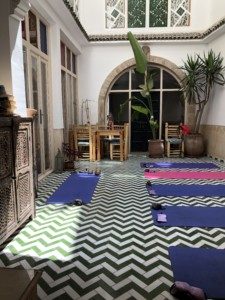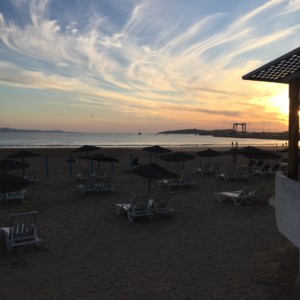 VENUE
The venue is located in the Medina, old town of Essaouira, a local traditional town 2.5 hours away from Marrakech. The venue has comfortable rooms, all with private bathrooms. There is a lovely rooftop with sun beds and a bright courtyard where the Yoga sessions take place. You will feel home away from home.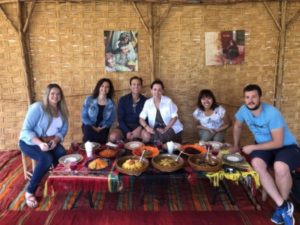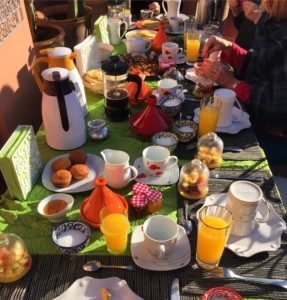 Weather
The sun is always shining in beautiful Essaouira. From December-March the sun is out all day but the temperatures are much cooler than the rest of the year (15-21 degrees).  Early mornings and evenings can get cold, so bring warm clothes, socks, sweater, etc.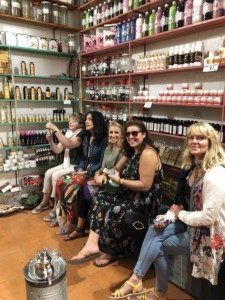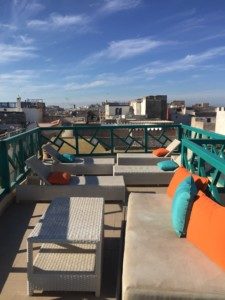 Relax on the rooftop
Send a message
Yoga
On your Retreat your Yoga sessions are designed according to your needs and classes are suitable for everyone, no matter experience. Most people are beginners or have done a few classes here and there before attending the Retreat, so don't worry.  We will practise on the rooftop or the charming courtyard downstairs (the courtyard has an open roof). Sally is specialising in Yoga Therapy and Ayurveda Nutritional Wellness and is able deliver a complete personalised Yoga program if you want to go deeper in your practise, and have a program you can use at home too.
The Yoga sessions will be fun, inspiring and suitable for every level at the same time.
Morning sessions begin 8.30-9.45. In winter season 9-10AM as it's still dark between 8-8:30AM. Breakfast is served after class. There will be fruits and tea to snack on before the morning sessions.
Afternoon classes 5.30-6.45 followed by a delicious dinner.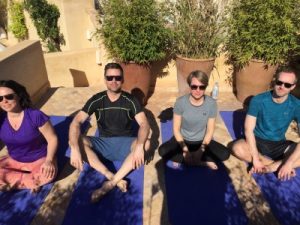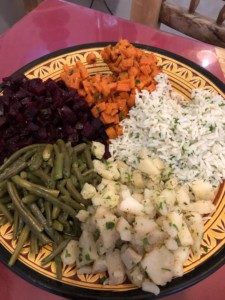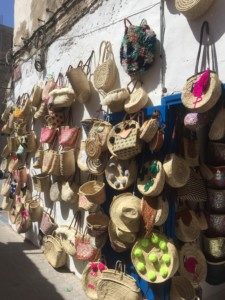 Sally Goldfinger is your private Yoga Teacher & Holistic Wellness Expert – you most probably find her with a gelato in her hand in the summer.
This Retreat is suitable for solo travellers
Most participants come alone, so don't worry if you travel on your own. You will have fun and connect with like-minded people. During your stay you can book a lovely day trip to an organic Argan oil farm and enjoy a local lunch in lovely surroundings. Make sure to have space to get some pure argan oil to take home. The region here is the only place in the world that grows organ trees and produces organ oil for skin care and delicious organ oil used in salads which is very rich in vitamin E.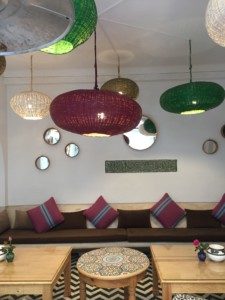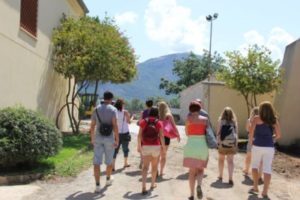 Read what other people say about their Retreat & Yoga experience with Sally   Here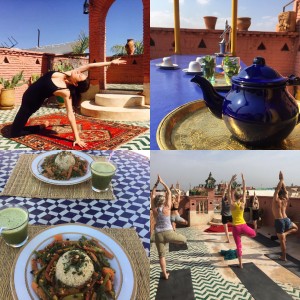 During you stay you can 
Book massages at the venue
Book an inspiring tour out to an organic organ oil farm and get the best organ oil for skin care in its pure form
Book an Ayurveda Consultation
Shop in the souks (local markets)
Rest on the rooftop
Rest by the ocean
Detox with a local hammam
Rest, rejuvenate and enjoy
Meditate by the sea
Go for walks
Visit to a local Organic Argan oil farm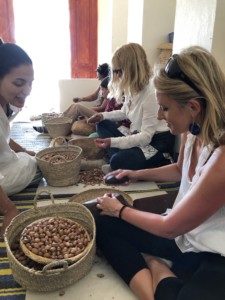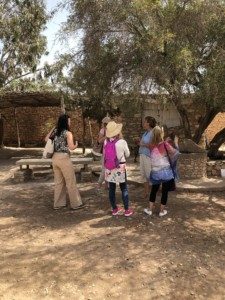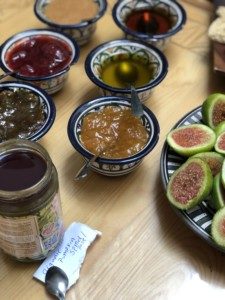 Retreat guests getting inspired and learning about the authentic way the argan nut is being prepared for the oil production
FLEXIBLE SCHEDULE:
Morning:
8:00am (tea for those who wish to wake up a bit earlier)
8:30am – 9:45am Yoga (in January & February sessions begin 9AM as it's still dark outside before 9AM.
10:00– 11:00am Delicious breakfast
12:00-1.30 pm: Ayurveda Workshop/Talk/Sharing (this is optional)
Rest of the day is free time to enjoy yourself, relax, read books, book a hammam, sun bathe on the rooftop or walk to the beach.
The schedule is flexible so you choose what you wish to do during your syau
Afternoon:
5:30pm-6:45pm: Relaxing Yoga
7:00 or 7:30pm: Healthy Dinner
Evening:
8:30-9:00PM: Optional Evening Meditation
Arrival
FREE PICK UP FROM MARRAKECH AIRPORT: Pick up time: 1 pm. Drive 2.5 hours to Essaouria with a tea, snack & toilet break on the way. Please note, that the included transfer is 1pm. If you arrive later we can help you book a driver. If you arrive to Marrakech 1-2 days before the Retreat begins, accommodation can be arranged for you in a nice and safe area of the Marrakech Medina or a hotel in the new town. You can still join the included transfer 1pm on the pick up day.
Departure

Please make sure you check out 11.00AM (rooms). You have an included drop off to Marrakech. The driver will come to collect everyone at 11:30AM.
Inquire Now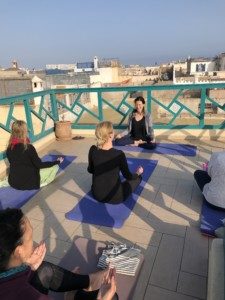 Relax at the venue in cosy surroundings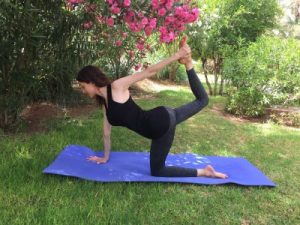 Your private teacher and holistic wellness inspirer, Sally Goldfinger
I am interested  
BOOKING & PAYMENT
Upon booking, an invoice will be send to you with details of payment. You can pay securely online via PayPal, Visa or bank transfer
CANCELLATION POLICY:
A cancellation less than six weeks before the holiday begins: We apologize, but we are unable to refund any payment. A cancellation between 6- 8 weeks before the holiday begins: We will refund 50% of the total cost.
Please note: We do not accept any liability for cancellations, delays or changes caused by closure of airports, civil strife, industrial action, natural disaster, technical problems to transport, staff cancellations, terrorist actions or threats, unforeseen changes in your personal circumstances, sudden death in the family, or other events beyond our control, such as participants' medical or psychiatric conditions which may develop during or subsequent to the Retreat; loss of, or damage to, personal property of participants.
We are not liable for any injuries you may incur. Yoga classes & use of our facilities are undertaken at your own risk.