More testimonials of Sally Goldfinger's yoga retreats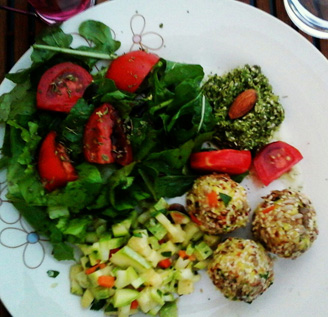 Fionah, Italy
I had my first yoga class with Sally 3 years ago, but this is the first time that I had the chance to book one of her yoga retreats and it has been a wonderful and enlightening experience.I booked a retreat for 2 weeks and when I arrived I was extremely stiff and stressed. After the first few days I was already feeling the benefits of Sally's yoga classes and healthy Ayurveda foods: each day I felt improvement by the yoga exercises and the lovely and tasty food that Sally makes.By the end of the 2 weeks I was (and still am!) more flexible, more relaxed, more energetic and healthier. I haven't felt like this for the last 5 years! I even lost 3.5 kgs without starving, because Sally's ayurveda foods are so delicious and cleansing, I didn't have cravings or in need of anything else. I really recommend Sally's retreats for her personal approach: she is not only a professional teacher, but she's also a sweet and caring person who likes to pamper her guests.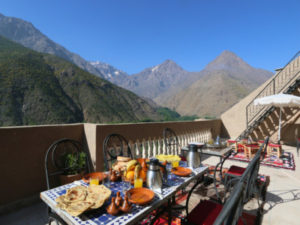 Nadia, UK,
Sally is the best Yoga teacher I've ever had. It is my second time with Sally and I love the way she teaches and she's top Professional in the way she organises her Retreats, from the pick up, to the welcoming in the venue, classes and her Ayurveda and nutritional knowledge. I love the fact that Sally is your personal guide. I really appreciated that in Marrakech. Sally was there to help, make me feel at ease and I loved my time. I like that Sally gives you a personal feel rather than being a big Retreat company with 20 participants. I was enjoying a 1-1 time with her as I booked 4 nights (weekend in Marrakech). Last time I booked 7 nights where we a group of 7 people. Both experiences were fantastic!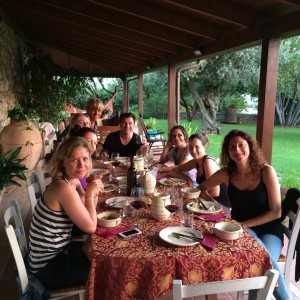 Andrea, Swiss
As a beginner in Yoga I felt comfortable and very welcomed by Sally. I have not have the most positive experiences with Yoga, but Sally really brought me "home", and now I love my Yoga and know exactly what suits me and my body. Sally taught me how to listen to myself, my body and my wellbeing each and every day. To me the Yoga experience with Sally was so much more than "just" a Yoga Holiday. It was a cultural experience, a food experience and a soul connecting journey. Thanks of all my heart, Sally and see you again!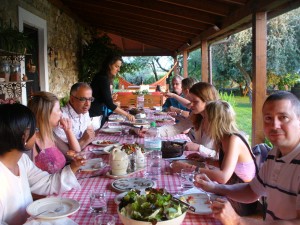 Alex, UK
I had the best yoga retreat  I think I have ever had in my life. I mean that Sally! This trip had everything, sun, nice people, great yoga, adventures to places never been before, ancient ruins, gelato – it ticked every box for me! Yoga was perfect – really enjoyed the style. Great sized class, really warm atmosphere, very positive vibes and linking that in with great people in a wonderful place just added to the relaxation. Thanks so  much, Sally!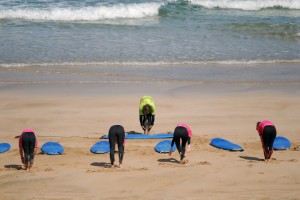 Janet, London
As a relative beginner in Yoga I found Sally's yoga classes to be fantastic. She created a wonderful feeling of calm in the class and her instruction was always clear, consistent and rhythmical. It was impossible not to feel more relaxed at the end of her class. She was always attentive and ready to correct your posture but in a gentle and uncritical way. She was first class- much better than any instructor I have ever had before.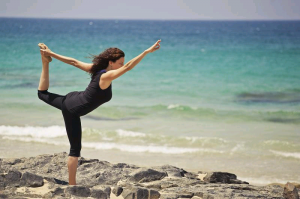 Sandra, London
It was really great to meet you. You have an amazing energy and presence. There is just something about you. Maybe a certain Zen to use a cliché, and I know it was felt by others. Thanks for being so great at teaching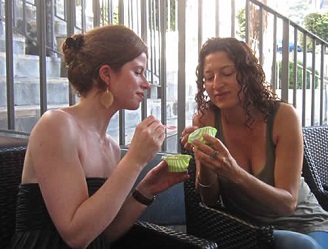 Jenny, London
It was a real pleasure and a turning point in my life meeting you. I have become a convert to Yoga. Thank you again for your help and guidance to living a better life.

Maria, Copenhagen
Thank you Sally for your amazing Yoga classes. You have a wonderful and rare energy and a genuine concern for everyone in your class. I feel taller, lighter and happier!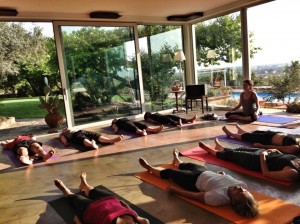 Tanja,Copenhagen
Sally's Yoga classes were a new experience for me. There was no "competition" or judgment in her classes which made me feel comfortable from the beginning. I was not very inflexible when I started. Doing a forward bend my hands were level with my knees. After two weeks I could touch my toes. My strength has increased and mentally I feel more calm and relaxed.

Simona, Germany
Yoga with Sally has enhanced my well-being. Her classes have helped me both physically and spiritually. I can still hear her soothing voice in my head when I relax in Shavasana.

Roy, UK
Sally is a generous, enthusiastic and inspiring teacher.  The Dettox Yoga Week was my first experience of yoga and ayurveda – after a week I felt very well nourished in both body and spirit.  Sally's teaching was very clear and her knowledge sharing of yoga and ayurvedic teachings yoga , insightful and informative.  In short this was a fantastic & fun week with a great teacher.  

Ullie, Germany
Thank you so much for a de-stressing yoga retreat in Italy. Your classes are amazing. I felt touched several times. You really take care of your yogis and know what your participants need. You love what you are doing and listen to your intuition. This makes you very special. I´m so happy that I´ve found your yoga retreats. You helped me to unwind and that´s why I want to say thank you. Your Ayurvedic neck and head massages are from heaven.

Ylske, Holland
I had a wonderful week. For me it was exactly what I needed. Beautiful place, delicious food, nice people and above all… very good yoga lessons given by an amazing teacher! Thanks, Sally

Simone, Germany
Thank you Sally for giving me once more a yoga holiday where I could completely relax and unwind plus the bonus of a spectacular venue that instantly calmed me down once I got there.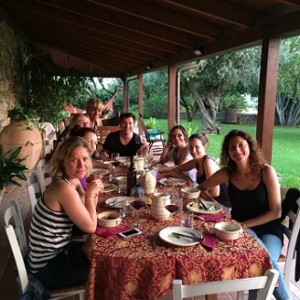 Emily-
It is hard to know where to begin when writing about Sally and her wonderful yoga retreats. Sally goes out of her way to tailor each day of your holiday to your individual needs and combines her extensive knowledge of yoga, meditation and Ayurveda practises with her incredible warmth, humour and nurturing approach. Sally is so generous with her time and makes sure each participant feels seen and welcomed as a dear friend. Her food is carefully prepared with love and attention and utterly delicious. Her Ayurveda consultation so in-depth and helpful in designing a diet that will improve your health forever. The accommodation and yoga shala are both lovely and secluded. I loved all the flowers around the grounds of the apartments and Sally's creative workshop space. I could not recommend Sally and her holidays more highly! Will be booking again as soon as possible.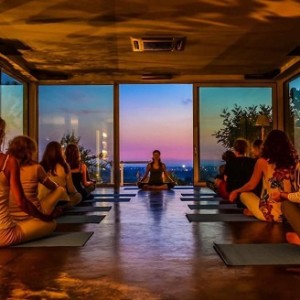 Emma
I have to start with complimenting Sally on her wonderful hospitality and genuine kindness. My partner was unfortunately taken ill while we were away. Sally helped us find a good doctor, made extra food parcels and healthy shots of tumeric tea! The yoga was great. The morning sessions were invigorating and the evening practice much more focused on relaxation, breathing and meditation. Beautiful yoga studio too. The back massage I had was amazing and I also had an Ayurveda consultation which was incredibly interesting and informative. She really wants you to have a great time. Everyone should go on one of Sally's retreats! And her lentil curries are just delicious! A lovely intelligent, interesting, fun and inspiring lady who I feel very prilivged to have met……..and hopefully will again 🙂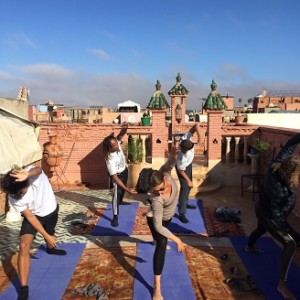 Samantha
Sally is an amazing yoga teacher and hostess, and I've just returned from my second  yoga retreat with her. She really takes the time to help you relax and learn to switch off and reconnect with yourself. I took part in her yoga week in November and came home feeling great. Along with all the wonderful yoga, fresh and tasty food, massages and just general relaxing, I did one of Sally's Ayurvedic consultations, where she told me which foods best suited my body type, and which I should avoid. Since then, I've followed her advice and feel so much better. My skin is clearer, I've lost weight and just feel much healthier and stronger. It was so good that I went back again in April for a re-tune! Just back home again and again, feeling relaxed and healthy. Thank you Sally!
Jo, Manchester 
I have just returned from the yoga and detox week and loved every minute and every mouthful of it. Sally is a wonderful yoga teacher-truly connecting you to the original holistic nature of yoga- she helps each of us do what's right for our bodies. She's a great cook- really tasty Ayurvedic food and stunning fruit/cereal breakfasts and tasty surprise lunchboxes. Massages and private consultations are available too and lots of time to chill/swim/cycle/surf/sleep. Highly recommended. Thank you Sally.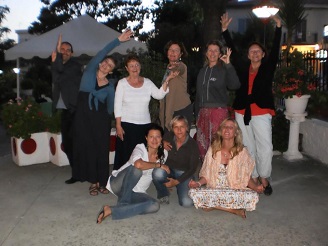 ROY, UK
Sally is a generous, enthusiastic and inspiring teacher.  This was my first experience of yoga and ayurvedic – after a week I felt very well nourished in both body and spirit.  Sally's teaching was very clear and her knowledge sharing of yoga and ayurvedic, insightful and informative.  In short this was a fantastic & fun week with a great teacher.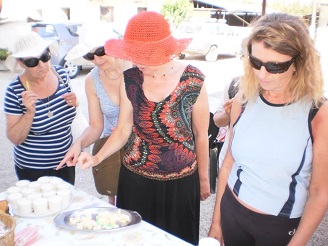 SARAH, UK
A wonderful, relaxing week. Sally is an excellent yoga teacher and just the classes on their own are an excellent de-stressor. Combined with the lovely accommodation, food and her knowledge of the island this makes for a brilliant holiday. Thanks so much – just what I needed!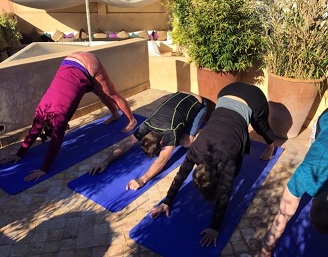 Ines, Germany 
This yoga week was one of the best weeks I ever had! Sally cares for every guest and one feels immediately very comfortable at the venue and at her yoga classes! She teaches not only how to open and strengthen the body, but also how to open the mind and how to listen to the inner voices. Breakfast is perfect, fresh, delicious, could not be better! The group atmosphere was great, the group size was perfect. I would love to come back!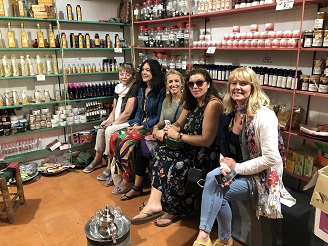 Kahti, London
Sally, you have a Buddah nature and face. It was a truly inspiring week for both my daughter and I.
You bend over backwoods for your students,that is amazing. Thank you.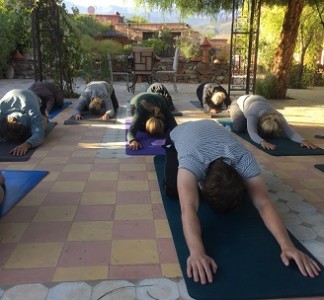 Liz, UK
Fantastic week!! I feel stronger as a result of the classes and people have commented that I looked very relaxed when I returned to work. Certainly felt relaxed and happy! I love your teaching style. Your instructions are clear and easy to follow. You're empathetic and correct gently where necessary.
The classes were easy at the start of the week and you built more into the classes gradually as the week progressed so we didn't get too tired. You looked out for me in my condition and gave me easier alternative moves. Thank you!!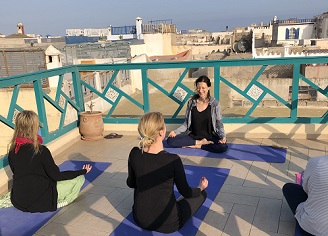 Jenny, London
It was a real pleasure and a turning point in my life meeting you. I have become a convert to Yoga. Thank you again for your help and guidance to living a better life.