Short Break Yoga Weekend Marrakech is a lovely 3 night get-away.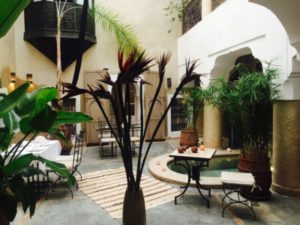 Short Break Yoga weekend Marrakech
You choose your dates and we will make sure you'll have a wonderful get-away. All you need to do is to relax and leave your worries behind you for 3 nights. You will enjoy a memorable Short Break Yoga Weekend in magical Marrakech with its beautiful history, ancient culture and inspiring spirituality. You will stay in the historic old town, also known as the Medina. The venue is in a peaceful Riad tucked away from noise and crowds. Here you have peace and calm and you can lean back and soak in the charming atmosphere.
Give yourself a unique experience where Yoga, culture and history meets. Chose your dates and enjoy the magic! Inquiry here
Highlights:
•3 nights accommodation in luxury Riad, single room ensuite bathroom
•Daily Yoga classes (3 Morning classes)
•Daily breakfast
•1 Dinner
•Towels
•Yoga mat/rug (or bring your own mat)
When
All year round – choose your dates
Price info – click here  
Daily schedule
Day 1 
•Arrival
Day 2 
•8.30 Yoga
•10.00 Breakfast
Free time to enjoy the day and evening
Day 3
•8.30 Yoga
•10.00 Breakfast
Free time to enjoy the day and evening
•7.30 Included Dinner
Day 4
•8.30 Yoga session followed by a delicious breakfast
•Check out (room check out 11.00)

Venue
The venue is intimate and tranquil in the old town, also known as the Medina. A home away from home! All 6 rooms are beautifully designed with inspiring interior to make you feel comfortable. All rooms have comfortable double beds with ensuite bathroom room. The Medina is a lively place, and once you step out from the venue you will be a part of "real Marrakech". You will enjoy an authentic atmosphere in a spiritual environment. Yoga takes place on the rooftop of the venue or in courtyard depending on the weather.
How to get there
If you wish to be picked up – You will be picked up at the airport by one of the local drivers. The drive is smooth and easy, and only a 25 min drive from the airport. The transfer cost 200 dirham/20 euro one way.

Yoga
All classes are tailored and aimed at building strength, improve flexibility, tone muscles and having fun! Classes are suitable for everyone no matter experience or age. However, classes are not suitable for very "hard core Yogi's", who are used to bend into knots and twist into extreme poses. The Yoga classes are for those looking to maintain health and balance and enjoy classes without the fear of competition.