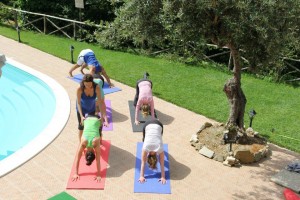 There are many reasons to go on a Yoga retreat. Going on a Yoga Retreat can make a big difference in your life. If you would like to kick start a healthier life or de-stress yourself, going on a Yoga Retreat can have positive benefits on your health and well-being. We are living in a fast paced world with unnatural time pressure which can cause mental and physical imbalance.
Taking time out and allowing yourself to disconnect from the fast paced world is the best gift you can give yourself. A Yoga Retreat allows you to slow down, breathe deeply and re-connect with yourself. It is healthy and necessary to unplug and de-stress your body and mind to maintain long-term health.
On my Yoga Retreats my main focus as a teacher and organizer is to create an environment that makes everyone feel comfortable and at ease. You will experience daily Yoga classes suitable for everyone, no matter age or experience. I like to design my classes in a way that makes everyone benefit from them, and most importantly I respect that all bodies and body structures are different.
A week of Yoga, deep breathing, healthy detox food, sun and relaxation will make you feel healthier, energized and happier. You will notice changes both emotionally and physically, increased flexibility and strength.
Hope to see you on one of my Yoga Retreats.
Live healthy and happy,
Sally XXX