Author: Sally Goldfinger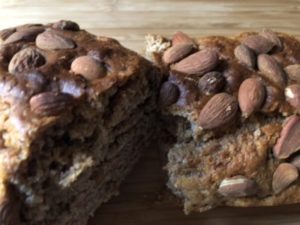 This perfect Banana Bread is vegan, healthy and delicious. I call it "Sally's perfect Banana Bread". It is low on sugar, and super easy to make. You can use a loaf pan but you may also use a round cake pan, if you want it to look more like a cake, than a Banana Bread. 
I have made it vegan, because I personally do not like the taste of eggs in baking. I do like to eat eggs (omelet, hard boiled eggs, etc), however I dislike the taste of eggs in cakes. I also bake vegan (not adding eggs), because it allows me to taste my batter. In that way I can check if I want my cakes to be sweeter or less sweet. 
If you prefer to use eggs, you may add 2 eggs in the recipe instead of flaxseeds, not a problem at all.  You can adapt and adjust the recipe according to your taste, and remove cinnamon, if you don't enjoy the taste of cinnamon in baking. 
Here you have the ingredient list: 
INGREDIENTS
1 Tablespoon flaxseeds (to use instead of eggs) and 3 TBSP water
If you prefer to use eggs, then use 2 eggs instead of flaxseeds
250 gram/ 2 cups  flour (you can use any other flour) – I used 200 gram whole-wheat flour. 50 gram white flour
2 teaspoon baking powder
1 heaping teaspoon cinnamon powder (you can use vanilla instead)
Small  pinch of salt 
6 tablespoons brown sugar (If you want the cake to be sweeter or less sweet add more or less sugar) When the cake is vegan (without eggs, you can actually taste the batter and check how sweet you personally want your cake)
4 TBSP Olive Oil
1 cup milk= 100 ML  (soya milk or rice milk or any other plant based milk. You can also use normal milk, if you don't need your cake to be vegan)
2 big bananas (or 3 small ones)
INSTRUCTIONS
Place 1 TBSP flaxseeds in a bowl with 3 TBSP water, put aside while you prepare the rest
Mix all of the dry ingredients in one bowl, also the sugar
In another bowl: Wet ingredients: Mash up the bananas and add milk to it. Add the flax "eggs". Whisk it for a few seconds
Add the wet ingredients to the dry ones. I don't use a hand mixer. I just use a wooden spoon to stir it all. And it's is perfect
Stir with a wooden spoon. The batter should be thick, not runny.  Check if  you want it sweeter. Just taste the batter. And add more or less sugar. 
Oil a loaf pan and pour the batter in.
Sprinkle almonds on top (optional)
Bake 180 degrees for 40-50 min ( Check the cake after 35 min as each oven works differently. If you want your Banana Bread to be more moist, then bake it less. You can always check if your cake is ready by sticking a fork into it).
Let it cool BEFORE you take the cake out of the loaf pan.
ENJOY! Adjust the cake to however you want. 
NEED A HEALTH BOOST?
Check out my inspiring Ayurveda Health Consultation