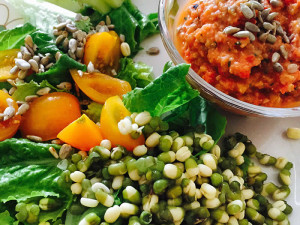 How to eat for your body type isn't difficult. It's not about calorie counting or restricting yourself every day, and it's not about following another diet trend that tells you never to eat bread again or stay away from sweet foods forever. How to eat for your body type is all about balance, and most importantly it's how you treat yourself day to day – emotionally, mentally and physically.
Your body type
If you've done an Ayurveda Consultation with me, then you're already familiar with your individual body type/dosha. If not, don't worry, you can also book a consultation via Skype. You may also want to read this blog about the principles of Ayurveda.
In Ayurveda there are three different body types called Pitta, Vata, Kapha.
Pitta
Pitta is strong physically and mentally, and often overworks and multi tasks a great deal. If out of balance Pitta tends to become stressed, overheated, competitive, suffer from inflammation, skin issues, acidity problems and at times hair loss. Therefore Pitta needs grounding, mild and cooling foods. An example of such foods are:
Grains
Seeds (pumkin, sunflower, sesame seeds)
Cucumber
Green beans
Salad leaves
Sweet fruits (melons, banana, mango, coconut, plums, cherry)
Potatoes
Corn
Millet
Oats
Basmati rice
Suggested meals for Pitta
Breakfast
Oatmeal with sliced banana, seeds, and shredded coconut
Oatmeal with grated apples and a cinnamon
Fruit salad (apples, pears, banana, raisins, shredded coconut). Fruit salad is better in the warmer months than in the cold winter.
Lunch
Basmati rice with green beans, parsley or coriander.
Stir-fried veggies with tofu or a protein of your choice. Sprinkle with fresh herbs.
Wholewheat pasta pesto with fresh vegetables
Dinner
Vegetable lasagna
Potato salad with cumin and parsley. Enjoy it with vegetables or a piece of protein of your choice.
Bean soup or bean curry with or without rice
Vata
Vata is often energeitc, restless and confused, and when out of balance Vata reaches a state of light depression, mood swings, sleep problems, digestive disorders and at times joint related diseases or problems. Vata needs soothing, astringent and cooked foods. An example of such foods are:
Rice
Mung dal
Ginger
Cinnamon
Cardamom
Wheat
Avocado
Banana
Berries
Oranges
Tofu
Basmati rice
Bread
Suggested meals for Vata
Breakfast
Porridge with cooked apples and a cinnamon
Barely with sliced banana, dried fruits and almonds
Oats with sunflower seeds or porridge with sunflower seeds and banana
Lunch
Rice with steamed vegetables
Soups with wholewheat bread or rice
Tofu stir-fry or rice cooked with dry fruit and lentils
Dinner
Roasted vegetables in oven
Pumpkin soup with wholewheat bread or rice
Lentil curry or veggie curry
Kapha
Kappa is heavy and calm. It is strong with a soft personality. When out of balance Kapha can become moody, withdrawing from people, depressed, emotional eating, diabetic, gaining weight, getting sudden allergies or asthma and develop slow digestive power. Kapha needs heating, warm, light and dry foods. An example of such foods are:
Beans
Dry fruit
Potatoes
Cabbage
Cauliflower
Broccoli
Spinach
Radish
Crackers
Chili
Cumin
Pomegrante
Suggested meals for Kapha
Breakfast
Wholemeal toast with tomato, oregano, sea salt
Fruit salad or fruit smoothie (summer months)
Barley cereal or muesli with dry fruits and rice milk
Lunch
Chickpea salad with veggies
Lentil soup or lentil salad
Black bean curry or bean salad
Dinner
Pumpkin soup
Dal with steamed broccoli sprinkled with coriander
Stir-fry with chickpeas, cauliflower and greens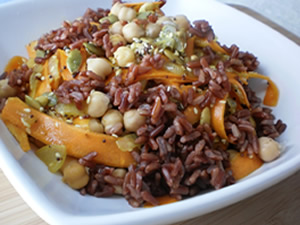 How to know my personal body type and treat an imbalance if any?
If you want to understand your internal health, why not book an inspiring Ayurveda consultation? The consultation can support you in a long-term healthy lifestyle, prevent or cure imbalances such as:
Stres
Anxiety
Low energy
Sluggishness
Bloating
Digestive problems
Constipation
Weight problems
Poor sleep
Acid reflux
Skin problems
The consultation involves a tongue reading. The tongue is the mirror to our health and is the most important and determining factor for your overall health. I will also read your pulse, check your skin and nails. I will ask you various questions to get an idea about your health and wellbeing. The session is a comfortable and there is nice flow where you will feel peaceful and gain a lot of new and informative knowledge about yourself, about Ayurveda lifestyle and how to maintain longterm health and wellbeing. Curious to know more about your individual body type/dosha? Get more info, here.
Hope to see you soon!
Live healthy and happy,
Sally