Author: Sally Goldfinger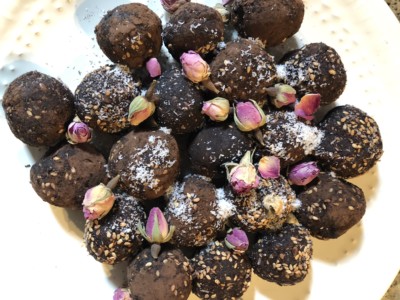 Healthy Ayurveda Energy Balls – Easy To Make. It's no bake. It's healthy. It's vegan. It's delicious. It's sugar-free. It's easy for your stomach to digest. It's all good for you.
AYURVEDA SNACKS
We all enjoy snacks. And being healthy doesn't mean that food has to be boring and tasteless. There are many wonderful ways to enjoy healthy snacks. In Ayurveda snacks are considered as a healthy part of our diet routine. Natural sweet flavours such as cacao, cinnamon, almonds, dates, etc, help to balance our doshas (body constitution).
The sweet flavours are an excellent way to balance our blood sugar and helps to stimulate our taste buds too.
My Easy Date Energy Balls – Healthy Ayurveda Snack
Scroll down to see the quick video below
INGREDIENTS
500 gram date paste or use 2 cups Medjool dates or any dates you have ( soak in warm water for 10 minutes, then drain well)
2 Spoonful flaxseeds
2 spoonful sesame seeds
2 spoonful pistachio nuts or almonds or pumpkin seeds
2 spoonful almond flour (optional)
2-4 spoonful cacao powder (depends how chocolatey you like it)
1 spoonful water
Pinch of cinnamon (optional)
Coconut (optional. The coconut is used to roll the date balls in)
Scroll down to see the 1 min video which shows you the easy process.
INSTRUCTIONS
Add the 500 gram date paste to a big bowl.
Add 2-4 spoonsfulls cacao powder on top.
Pulse the dry ingredients (sesame seeds, flax seeds, nuts, cinnamon) in a food processor or a blender until they're in small pieces (see video below)
Add 1 spoonful water. Pulse again.
Add this onto the date paste in the bowl.
Roll into balls, using the warmth of your hands to mold them together. 1 inch bowl gives around 15-18 balls. You can also roll them bigger.
Use coconut, sesame or cacao powder on top to give more flavour.
ENJOY! Eat as is! Or store in the fridge in an air-tight container for up to a 3 weeks.
VIDEO BELOW:
Healthy Ayurveda Energy Balls – Easy To Make
Share with your friends. If you make a batch, let me see your Ayurveda Energy balls.
FEELING ANXIOUS OR A LITTLE STRESSED?
Check out my inspiring Meditation Audios For Stress, Anxiety & Binge Eating