Christmas Yoga Retreat
Healthy December
December is often a month of indulgence and overeating. Enjoying good food and having a great time is important but we want to avoid feeling sluggish and gaining weight. Why not have fun and enjoy healthy foods, lots of Yoga and energising breathing exercises that will leave you feeling uplifted, light and happy?
Enjoy yourself in the middle of the old town of Marrakech in a tranquil venue. Feel yourself right in the magic and feel the amazing benefits of daily Yoga with classes designed to tone, stretch, detox and relax. This is not a week in the outskirts. It's a lovely Yoga Holiday which gives you time to go out and look at the local markets when you wish, read books on one of the many rooftop cafes Marrakech has to offer, or simply relax in the peaceful venue.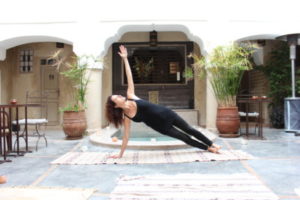 Yoga
You will enjoy a nice blend of yoga, holiday feel, inspirational talks about holistic health, Ayurveda nutrition, body types, how to cure imbalances, how to relax and switch off and much more. The Yoga classes are held in the beautiful courtyard/patio which has an open roof. All classes are tailored and aimed at building strength, improve flexibility, tone muscles and having fun!  Classes are suitable for everyone no matter experience or age. However, classes are not suitable for very "hard core Yogi's", who are used to bend into knots and twist into extreme poses. The Yoga classes are for those looking to maintain health and balance and enjoy classes without the fear of competition.
SCHEDULE
Morning:

8:30am – 9:45am  Yoga
9:45am – 11:00am Breakfast
10:30am-5:00  Free time to enjoy Marrakech, relax, read books, book trips to the mountains or the sea, enjoy a local Hammam, etc
Afternoon Yoga:
5:30pm-6:45pm  (There will be 1 afternoon off )
Dinner:
19.30 3 dinners included plus your unique Christmas dinner
Christmas Dinner
25 December Gastronomic Moroccan Dinner in one of the most enchanting restaurants in Marrakech.
Price:
1 x Person single room en-suite: 1575€
2 x person en-suite: 1099€ pr person
Included:
6 night's Accommodation in luxury Riad
Towels
Daily Yoga classes
Daily breakfast
3 Dinners
1 Christmas dinner in one of Marrakech's most exclusive restaurants– 3 course Moroccan gastronomic food (choose fish, meat, vegetarian, vegan)
1 Ayurveda workshop/introduction to Ayurveda, how to heal imbalances, how to understand diseases, body types and more
Book Now