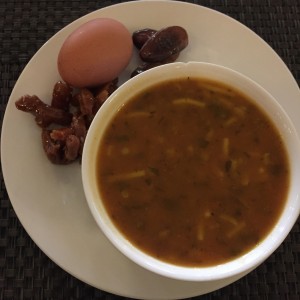 Best foods to eat during Ramadan and foods to avoid is a guideline for you if you're fasting this month. Whatever your reason is to fast during Ramadan, your body and system is going through big changes. From one day to the other the natural life rhythm changes. Food is consumed in late hours and the intensity of of long hours of fasting can bring the natural system out of balance. The changes in the sleeping pattern is confusing for the system too, and many people feel sleep deprived during the period of Ramadan. All of this requires the right fuel to soothe the system and to avoid weight gain. Below is my list of best and worst foods to eat during Ramadan:
The best foods to eat
Healthy proteins:
Chickpeas
Green lentils
Yellow dahl (yellow split lentils)
Mung dahl (can be sprouted too or cooked into a soup or curry)
The above are all healthy plant based protein. Protein is filling and plant based protein contain zero unhealthy fats. Plantbased protein is a good source of energy and it lowers cholesterol levels too.
Best carbohydrates: 
Oats
Whole-wheat bread
Barley bread
Quinoa
Brown rice
Barley grains
Healthy carbohydrates balances the blood sugar and keeps you fuller for longer
Healthy fats:
Walnuts
Avocados
Almonds
Sesame seeds
Sunflower seeds
Fish rich in omega 3 (sardines, mackerel, salmon)
Hazelnuts
Pumpkin seeds
Healthy fats are important to keep the system balanced and to avoid memory loss and sluggishness
Worst foods:
Sugary yoghurts (always choose natural yoghurts, if possible goats yoghurt)
Refined sugar
Fried foods (spikes the blood sugar and can lead to weight gain)
Cheese (high in cholesterol and animal fat
Beef (high in fat)
Lamb (high in fat)
If you enjoy to eat meat, go for lighter meat such as chicken or turkey. It's much easier for the body to digest
Sugary drinks
Soda
Sparkling water (can cause stomach ache or bloating). Still/no gas water is a better option
Raw salads ( it's hard on the system to digest raw salads after many hours of fasting. It can cause stomach ache or intense bloating. A better option is to have cooked, grilled or steamed vegetables.
Tomato salad with raw onion (can cause stomach cramps)
Raw onion (can stomach bloating)
Raw garlic (can cause stomach bloating)
Cold drinks right from the fridge (it gives the digestive system a shock after many hours of fasting. It's better to have room temperature water or a glass of hot water)
Orange juice (it can cause stomach cramps because of the acidity). A warm soup is a better choice.
Ramadan Mubarak to those who are fasting! Take good care of your physical, spiritual and mental health.
Sally xx