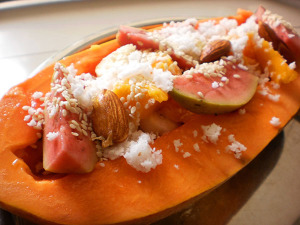 An Ayurveda Detox Yoga Retreat in Canary Islands is all about getting back to balance, feeling better and enjoying a week full of Yoga, detoxifying Ayurveda foods and plenty of time to de-stress.
I love to teach Yoga and create inspiring Ayurveda meals for my customers. Over the years I have developed my own teaching style and what is of great importance to me is to create an environment that makes everyone feel comfortable and at ease. Although I am specialized in Hatha Yoga and Yoga Therapy I like to bring in a stronger practice when I feel my students are up for a dynamic class. I prefer to blend in an interesting mixture of styles into my classes to open up the body, strengthen the muscles and burn fat. Relaxation and a slower practice is just as important to balance out the whole system.
On my Ayurveda Detox Retreat you will experience a week full of health and well-being. All foods are carefully selected and always seasonal, and I am always in close contact with each and every participant on my retreats to make sure everyone gets what they need. I personally design the breakfasts and lunches and have a helper to help me out with the dinners. You will always enjoy my special detox (pink) tea which does wonders to the skin and helps eliminate toxins from the body. I take great pleasure in inspiring my students and sharing my knowledge in Ayurveda, a holistic system of health.
Retreat venue
You will stay in Corralejo, a small beach town on the Northern part of the Island if Fuerteventura. You'll have your own private bungalow, steps away from the beach. Each bungalow is equipped with a mini kitchenette and a fridge. We will practice yoga twice a day (outdoors) at the bungalow complex. Breakfast and dinner is served by the pool, and you will have a packed nutritious lunch to take with you to the beach, on an excursion or enjoy by the pool. You will discover and feel the benefits of a complete Ayurveda Detox Week in a tranquil setting in Fuerteventura, on the Canary Islands. You will notice changes in your body and skin after a week with Ayurvedic food and my famous pink detox tea.
I am dedicated to the tradition of Yoga and Ayurveda and always looking forward to sharing my knowledge in the field. My wish is to show you all the great benefits of Ayurveda and what it can do for you. Check out my

 Ayurveda Detox Yoga Retreat

, or contact me to book now.