Yoga and Meditation Holiday Marrakech
Yoga and Meditation Holiday Marrakech – Enjoy a wonderful Yoga Holiday in magical Marrakech with its beautiful history, ancient culture and inspiring spirituality. Tone with daily Yoga classes, increase flexibility and feel your stress melting away with guided meditation in peaceful surroundings. Allow yourself to relax and let others take care of you. Stay in the historic old town (Medina) in a peaceful Riad, and soak in the charming atmosphere that will take you back in time. Give yourself a unique experience where Yoga, culture and history meets.
Highlights
Single accommodation en-suite bathroom
Towels
Daily Yoga Sessions
Daily breakfast
3 Dinners
1 day trip out to the charming coastal town, Essaouria (also known for its locally produced argan oil, relaxed sea side, chill out atmosphere and much more)
1 Ayurveda Talk/workshop (learn about the doshas, imbalances, how to cure an imbalance, healing foods, and much more)
WIFI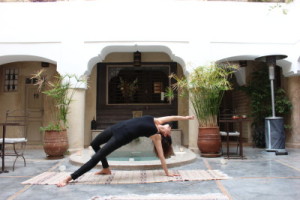 When
Month
Dates
May 2017
Choose your dates
June 2017
Choose your dates
October
 Choose your dates
November 2017
4-10
Accommodation/Price      
Room
 Ensuite
Price per person
Single
€1225
Double/Twin
€989
Inquire Now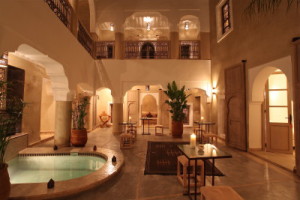 The price includes:
The price does not include:

6 nights' accommodation Ensuite
Daily Yoga Sessions
Daily Breakfast
3 Dinners
Yoga Mats
Towels
1 day trip out to the charming coastal town, Essaouria (also known for its locally produced argan oil)
Wifi
Location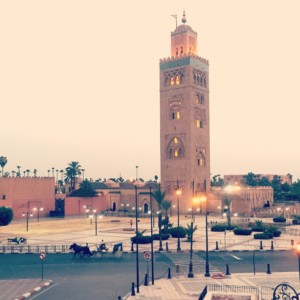 Marrakech, Old Town Medina
Only 30 min away from Marrakesh Airport,  you will enter an intimate and tranquil venue in the Medina, and feel at home away from home! All 6 rooms are beautifully designed with inspiring interior to make you feel comfortable. The location is in the old town. All rooms have comfortable double beds with ensuite bathroom room. Please note that the Medina is a lively place, and once you step out from the venue you will be a part of "real Marrakech". Please do note, that a Yoga Retreat venue with a Yoga shala/Yoga hall doesn't exist in Marrakech Medina. You will enjoy an authentic atmosphere in a spiritual environment. All Riads have their own uniqueness, and I have chosen 3 venues that have the ideal energy, authenticity in the best location. You will enjoy Yoga classes in the beautiful courtyard/patio which has an open roof.
How to get there
If you wish to be picked up – You will be picked up at the airport by one of the local drivers. The drive is smooth and easy, and only a 25 min drive from the airport. The transfer cost 200 dirham/20 euro.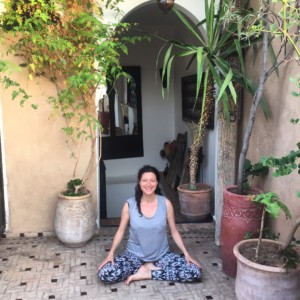 Ideal for solo travelers
The inspiring Yoga and Meditation holiday in Marrakech ch is suitable for everyone. Most participants travel alone, so dont worry if you arrive on your own. You will have fun and connect with like-minded people.

Yoga 
All classes are tailored and aimed at building strength, improve flexibility, tone muscles and having fun! You will have a lovely Yoga experience in a spiritual environment. Classes are suitable for everyone no matter experience or age. However, classes are not suitable for very "hard core Yogi's", who are used to bend into knots and twist into extreme poses. The Yoga classes are for those looking to maintain health and balance and enjoy classes without the fear of competition.
Ayurveda workshop
For those who are interested there is an included Ayurveda Nutritional and wellbeing talk – (introduction to Ayurveda, food, lifestyle and the 3 body types.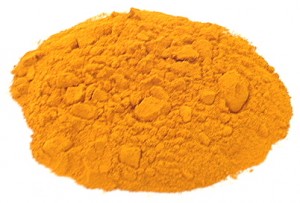 Schedule
Arrival day Check in: From 2.00pm (it is not possible to check in before 2.o0pm) If you arrive earlier you may leave your luggage in the reception area and wait until your room is ready. No Yoga on arrival day, as everyone arrives on different times. 
Dinner 7.30pm.
Departure day: Breakfast 8-9.30am. Room check out 10.30 (it is not possible to check out from the rooms after 1o.30am, but you may keep your luggage in the reception area if you have a late flight)
Your Week:
8.30 am : Morning Yoga
9:45 am: Breakfast
11-5:00 pm: Free time (option to book massages, rest, breathe, enjoy, go for walks, excursions, smile, laugh)
6:00 pm: Yoga
7:30 pm: Dinner (3 dinners included)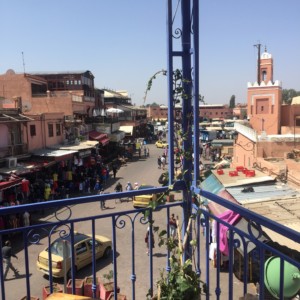 Inquire now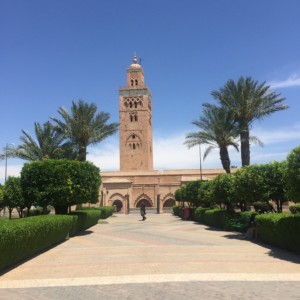 Weather
The sun is always shining in beautiful Marrakech, and the sky is always blue. From December-March the sun is usually shining all day but the temperatures are cooler (15-25 degrees), and early mornings and evenings can be cold (10 degrees). With the global weather changes it's impossible to predict the weather. November experiences the same climate like on the Canary Islands – sunny and warm but some years there has been days with rain and cool weather. December-March the temperatures vary between 14-23 degrees. Nights and mornings are chilly. With the global climate changes, we have no control of the weather.
Payment
When you fill out the booking form, an invoice will be send to you with details of payment.
Cancellation policy
A cancellation less than six weeks before the holiday begins: We apologize, but we are unable to refund any payment. A cancellation between 6- 8 weeks before the holiday begins: We will refund 50% of the total cost.
Please note: We do not accept any liability for cancellations, delays or changes caused by closure of airports, civil strife, industrial action, natural disaster, technical problems to transport, staff cancellations, terrorist actions or threats, unforeseen changes in your personal circumstances or other events beyond our control; participants' medical or psychiatric conditions which may develop during or subsequent to the Retreat; loss of, or damage to, personal property of participants.
We are not liable for any injuries you may incur. Yoga classes & use of our facilities are undertaken at your own risk.
[/one_half_last]