Detox & Rejuvenation Yoga Retreat
Highlights
6 nights accommodation
Daily Yoga classes
Meditation sessions
Toning sessions to target abdominal and waist line
Mental detox and clarity
Towels
Breakfast
Lunch
Dinner  (vegan, vegetarian – you choose. Should you wish to have organic meat, this is possible)
Optional Hammam treatments
Optional Ayurveda Consultation includes tongue and pulse diagnosis
When
Month
Dates
September 2017
16-22
November 2017
 18-24
January  2018
6-12
Accommodation        
Room
 
Price per person
Single
€1395
Double/Twin
€995
Inquire Now
The price includes:
The price does not include:

6 nights' accommodation
Towels
Daily Yoga classes
1 Ayurveda Workshop
Daily Breakfast
Daily lunch
Daily dinner
Day trip to Marrakech Medina

Flights
Airport transfers
Travel insurance
Detox & Rejuvenation Yoga Retreat Itineary
The week is suitable for everyone, no matter age or experience. Included in your week is a free workshop  – an inspiring nutritional talk where you will learn the principles of Ayurveda lifestyle, what foods help combat anxiety and stress, how to prevent diseases, how to understand an imbalance, the 3 body types/doshas, and much more. Come and enjoy a healthy week in beautiful surroundings.
Typical day
8:30 Morning Yoga
10:00 Breakfast
11:00 Free time to relax and enjoy the sun
14:00 Detox lunch (one day off where lunch will not be served)
14:00-17:30 Time to enjoy yourself, read books, go for walks, etc
17:30 Yoga Class
19:30 Dinner (one day off where dinner will not be served)
Location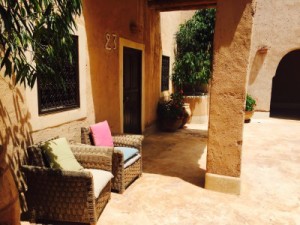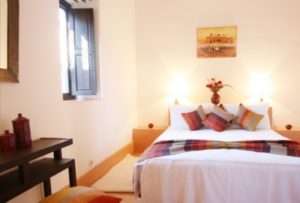 Morocco, venue and rooms
Only 30 min away from Marrakesh Airport,  you will enter a tranquil venue in the outskirts of Marrakech city, and feel at home away from home! All rooms are beautifully designed with inspiring interior to make you feel home. You will enjoy all the comfort you need in an uplifting environment. You will also enjoy your own space in a private room, ensuite bathroom. Should you wish to share, there are rooms with two single beds, ensuite bathroom. 

Hammam – Spa
Inside the venue you'll find a beautiful Hammam where you can enjoy luxury spa treatments. Enjoy a traditional Hammam experience, detox with organic body scrubs, and nourish your body with pure and clean products.
Yoga
All classes are tailored and aimed at building strength, improve flexibility, tone muscles and having fun! Classes are suitable for everyone no matter experience or age. However, classes are not suitable for very "hard core Yogi's", who are used to bend into knots and twist into extreme poses. The Yoga classes are for those looking to maintain health and balance and enjoy classes without the fear of competition.
Morning classes include sun salutations to build strength, and is a blend of strong Hatha flow and Vinyasa. Evening classes are gentle with focus on deep stretches to release stress and muscle tension. Meditation and relaxation will also be introduced in the evening sessions.
Food


You will feel nourished and not food deprived. All food is vegetarian and/or vegan ( you choose). You have 3 meals a day included in your week. Should you wish to try a traditional Moroccan dish with chicken or lamb, just let us know. All food is fresh, local and chemical free.
Nutritional Workshop
You have one Ayurveda Nutritional  workshop included. You will learn about Ayurveda Nutrition, what Ayurveda can do for you,, how to heal inbalances and much more.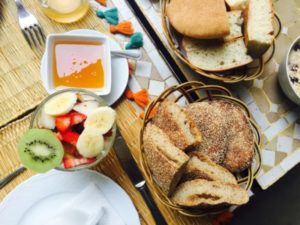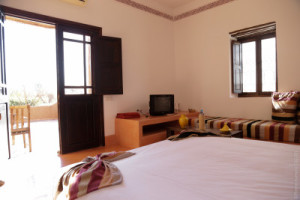 Schedule
A typical day
8.30 Morning Yoga
10.00 Breakfast
11.00 Free time to relax and enjoy the sun.
14.00 Lunch
14-17.00 Time to enjoy the Spa, read books, soak in the sun by the pool
17.30 Yoga Class
19.30 Dinner
Arrival
From 2pm  (If you arrive before 2 pm, you can leave your luggage in the reception until your room is ready). No Yoga on arrival day. Dinner at 7.30 pm. Don't worry if you arrive later. Dinner will be arranged for late arrivals too.
Departure

Please make sure you check out 10.30 (rooms). You can leave your luggage at the reception.
How to get there
You can book a pick up – the driver will pick you up at the airport. The drive is smooth and easy, and only a 45 min drive from the airport. Price for the pick up is 30 euro/300 Dirham.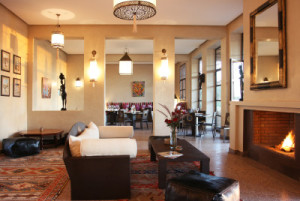 Ideal for Solo Travelers
Connect with like-minded people. Be yourself. Enjoy and let go. The week is yours. Nourish yourself and start your year with love and care, health and transformation.