The benefits of Sally Goldfinger's holidays are long lasting and life changing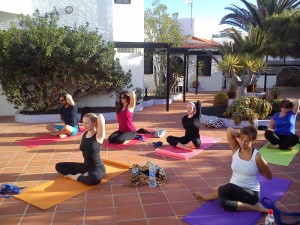 "I had the best holiday I think I have ever had in my life. I mean that Sally! This trip had everything, sun, nice,  people, great yoga, adventures to places I never been before – it ticked every box for me! I definitely came back giving more thought to what's important in my life – friends, family, girlfriend, happiness… just thinking back to this trip on a busy time at work etc makes me think maybe I shouldn't worry so much about things and just enjoy life! Body is stronger definitely! Great sized class, really warm atmosphere, very positive vibes in a wonderful place just added to the relaxation!

Thanks for everything!!
Alex, UK 2013 speaking about his Italian yoga holiday.
"I have to say that I so enjoyed your classes.  Your knowledge is immense and thank you for sharing  that with us.  Considering I had only really done a couple of yoga classes in my life, I am now very much looking into taking it up more seriously.  I have returned home much more in tune with my body and my mind.    In fact, I was in a toning class this morning, and one of the members actually commented on my improved posture and my increased flexibility.  And that's down to you.  Thank you."
Shelley, UK  2012 speaking of her Fuerteventura Yoga Holiday
"I wanted to say thank you for the great organization of my holidays and the wonderful yoga classes. I really did enjoy my stay in Fuerteventura and I found all your recommendations and information very helpful. So, once again, many, many thanks and I hope I can come back to Fuerteventura next year!!! 🙂

Hugs,"
Jasmin, Germany 2013 speaking of her Fuerteventura Yoga Holiday
"Sally's classes are really inspiring. During the time she spent with the group I was part of, she provided us[s21]  with many tips and suggestions that we could now use in our daily life to improve our health, our breathing and relax our mind. I found her positive energy, her passion for yoga and her calmness very powerful and soothing at the same time. I also received an ayurvedic treatment from Sally and it was excellent to promote relaxation and well being. I feel so inspired and willing to devote time to my health now that I will definitely try and join other classes or workshops with her in the future. Thank you, Sally, it's very rare to meet someone that is so knowledgeable, but also approachable and human.

Thank you so much for setting such example for me and for helping me breathe calmly and deeply in such a difficult moment of my life.

Take care,"
Irene Dublin  2012 speaking of Fuerteventura Yoga Holiday
"This was such an amazing experience.  I was much calmer, focused than before.  My body shape changed.  Not bloated, slimmer waistline.  I was much more supple and "open"by the end of the holiday, and even able to reach my toes in the forward stretch.

With love"
Brenda, Bruxelles 2013 Speaking of her Indian Yoga Holiday
"The overall experience was one of relaxation and well-being. After 4-5 days, my energy levels had greatly improved and I had a general feeling of lightness. I also did not experience any cravings between meals for snacks or caffeine (which I normally get during my daily life). Mentally, I felt calm and at peace. And being immersed in the beautiful nature, made me feel very joyful and appreciative.  The yoga classes were set at a perfect pace. We started off gently, and Sally eased us into a more dynamic practice as our bodies started to loosen and strengthen. Sally's teaching style is wonderful – her instructions are clear and gentle, she is supportive and calming, and never makes you feel under any pressure. She gently corrected your position where necessary, and offered alternatives according to differing levels of intensity. There was also a good balance of meditation and breathing exercises."
Denise, London 2012 speaking of her India Yoga Holiday
Enquire about our next holidays NOW!